Customer Loyalty: Three Tips to Earn It and Keep It
Earning true customer loyalty remains a critical challenge for brands.
Loyalty programs are great, but many of them miss the mark when it comes to mounting customer expectations. So, why focus on loyalty this holiday season? Research shows that when customers are actively engaged with brands and their loyalty programs, the results are impressive, including 90 percent more frequent purchases, 60 percent higher spending per transaction and five times greater likelihood to become a repeat buyer. The key phrase is "actively engaged." Having a customer sign up for a loyalty program is not enough. In fact, the average customer belongs to over 14 different loyalty programs but is active in less than half.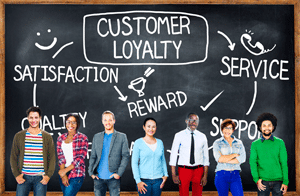 Every holiday season should serve as a reminder of how far retailers still need to go to earn and build loyalty with their customers. Consumers can easily be lured away by better experiences and seasonal offers. To maintain loyalty to your brand, here are three tips that retailers can apply today to hang on to customers, while avoiding the dreaded holiday customer stray.
1.Personalize Treat every customer as an individual, not a demographic
Digital transformation is creating a savvier consumer market. Customers know when they're being blasted with a blanket message from their favorite brand and they don't like it—especially if they're a member of the brand's loyalty program.
Personalization is key as customers become more critical. Not surprisingly, only 22 percent of loyalty members indicate they are happy with the level of personalization they receive from brands. Treating each customer the same way has become taboo, and it can often result in once loyal customers looking for alternative options on the market. Loyalty members are individuals who have opted into a brand's products or services, and deserve to feel rewarded for that action. The truth, however, is that only 22 percent of loyalty members perceive their experience with the brand as being better than that of non-member customers.
2. Keep Pace with rising customer expectations
For customers, loyalty takes effort. Particularly when competitors are constantly courting customers with a barrage of promotional offers meant to entice them away. Brands and retailers that fail to keep up with increasing customer expectations risk losing them altogether. Customers can easily take their business elsewhere, which makes it imperative for brands to deliver an amazing customer experience. Digital-first businesses like Amazon and Zappos have structured their entire engagement models on optimizing experience. They've set the bar high for the rest of the industry and should also provide brands with a barometer for what customers truly expect for their loyalty. And just to be completely clear, customers expect a lot in return for their loyalty.