Tips for Marketing Teams Working From Home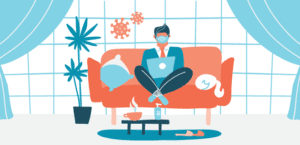 Some marketers who find themselves working from home during the COVID-19 pandemic have experience with getting business done outside the office. But others are finding themselves adjusting the challenges of remaining connected, communicating remotely, embracing new technologies and simply running the business—particularly when it comes to managing teams from afar.
A piece in AdMonsters outlines 13 essential tips for working from home, from video conferencing to keeping a calendar to working with your IT teams. Here are few highlights:
Managing Teams. While there are management tools on the market, like Teamwork and Toggle, adding a personal touch to your management style can go a long way. It helps to remind teams that we're all going through this transition together. Managers may want to schedule specific times for check-ins, provide teams with daily checklists and schedule open office hours for questions or concerns.
Communication. Check-ins with teams and among peers is critical. A daily virtual call can help motivate employees and add structure to their work day. Use instant messaging, whether Skype, Slack or Microsoft Teams, for quick clarifications and statuses on projects. Video conferencing, as opposed to regular conference calls, is preferable for several reasons: participants don't need to announce themselves, facial expressions communicate understanding, confusion or the desire to speak about the topic at hand, and it allows for a bit of humanity (pets, kids, virtual office touches). Recording conference sessions is a good way to share with those who can't attend, and the software's chat options can help communication with larger groups.
Calendar. Maintaining a calendar is key to staying organized in a remote setting. Be sure to book all meetings, personal commitments and times you won't be available for a call, and consider sharing that calendar with your team. There's a risk that your calendar could fill up quickly with meetings that might have only required a quick face-to-face chat in the office. So, for one-on-one chats and small group meetings, consider jumping on IM to request a quick video call to talk through the issue. Also, keep meetings brief and cover only the topic at hand.
For more tips on remaining productive and organized while working from home, read on in AdMonsters.
---
Other articles you might enjoy:
---