TikTok, Bud, P&G: Branded Experiences From Super Bowl LIV
Being on the ground at the Super Bowl is a brand marketer's dream—but the competition for catching consumers' attention can be fierce. Brands must go all out with their activations to cut through the clutter and create memorable experiences for attendees, whether it's consumer-facing experiences in the NFL Experience zone or special events for VIPs and influencers featuring top musical talent and celebrities. Following is an on-the-ground look at the brands that stood out this year at Super Bowl LIV in Miami.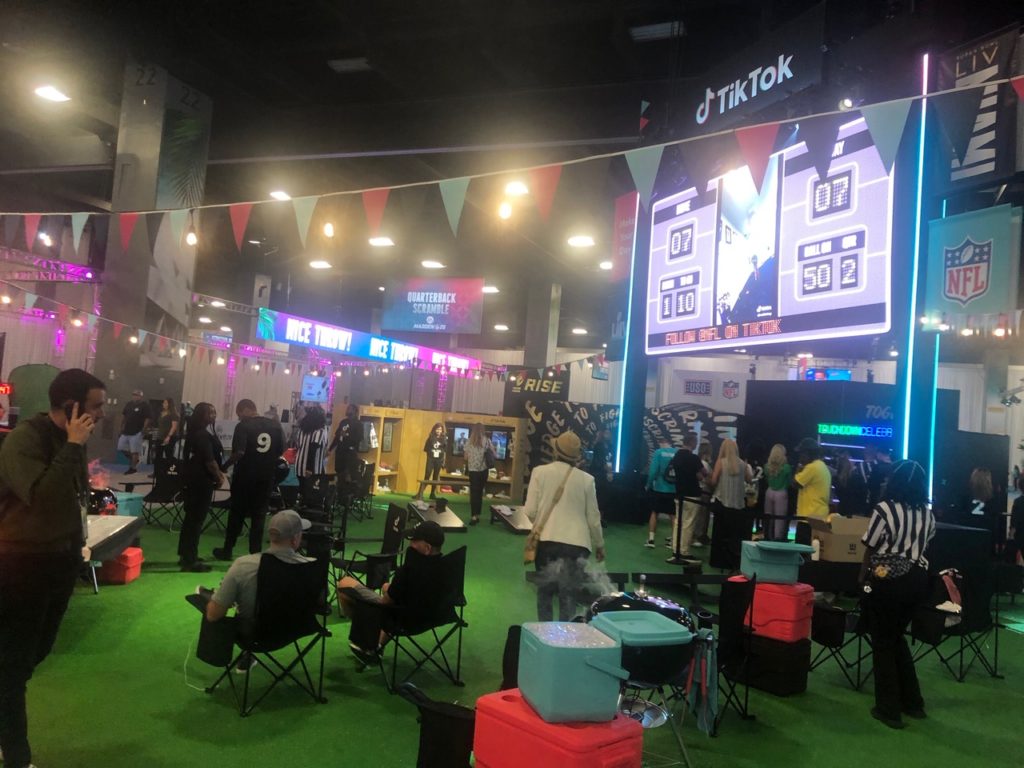 TikTok
On site at the NFL Experience, TikTok used a traditional stadium tailgate theme for its build. Its sleek footprint featured a massive scoreboard programmed to play football-themed user generated content and touchdown celebrations created by attendees. It was also equipped with branded lockers with video boards playing NFL TikTok content. The activation had games like corn hole, grills that actually emitted smoke (without the cooking) and tailgate chairs to relax in. The most interactive portion of the footprint was the content creation: the brand encouraged attendees to create TikTok content that included touchdown celebrations that would then be shared on the platform.
Bud Light/Budweiser
Bud Light, the official beer sponsor of the NFL, went all in on the ground in Miami. The brand hosted a three-day music festival at the American Airlines Arena for consumers called the Bud Light Super Bowl Music Fest. Headlining acts included Guns N' Roses, Rick Ross, Lil Wayne, Maroon 5 and Snoop Dogg, to name a few. Bud Light partnered with On Location Experiences, the official hospitality partner of the NFL and Electronic Arts, Inc. to kick off the weekend Thursday evening with the EA SPORTS BOWL at the Bud Light Music Fest. Highlights from the fest were featured in a one-hour television special on FOX.
Meanwhile, Budweiser had plans just down the road. For the first event in the U.S. under the BudX platform, a global program designed to spotlight creative minds in music and culture from around the world, Bud took over The Nautilus by Arlo hotel, rebranding it as "BudX Hotel." The invite-only experience for 200 creators and influencers from across the globe, each having more than one million social followers, featured performances by artists including Black Eyed Peas and Diplo. There was also a karaoke competition judged by Miami basketball icon Dwyane Wade. In addition, Budweiser partnered with Gillette to open a pop-up barbershop with celebrity barbers.
---
Other articles you might enjoy:
---
P&G
Procter & Gamble opted to showcase multiple brands at its footprint within the NFL Experience including Head & Shoulders, Tide, Pampers, Gillette, Old Spice and Olay. Pampers handed out samples and gave out coupons, and there was also a #LoveTheChange bus on-site to promote the brand's campaign with the NFL, which involves seven NFL-player dads installing 5,000 changing tables across North America by 2021. The bus doubled as a changing station for parents, too. Promoting multiple P&G brands on-site was reminiscent of its Super Bowl commercial, which tackled several in one 60-second spot.
But the focal point was the P&G "Fumble Frenzy," an inflatable football game that challenged consumers to recover as many fumbles as they could for a chance to win a $100 gift card. Fans operated the players using a mini-field goal post as the control. When it was pushed down, the football player's arms moved upward, the torso slid forward and players could then capture the footballs. Scores were kept on a Jumbotron hanging from the rafters while celebrity announcers did live play-by-play from a broadcast booth. P&G cheerleaders roamed the footprint giving away P&G product.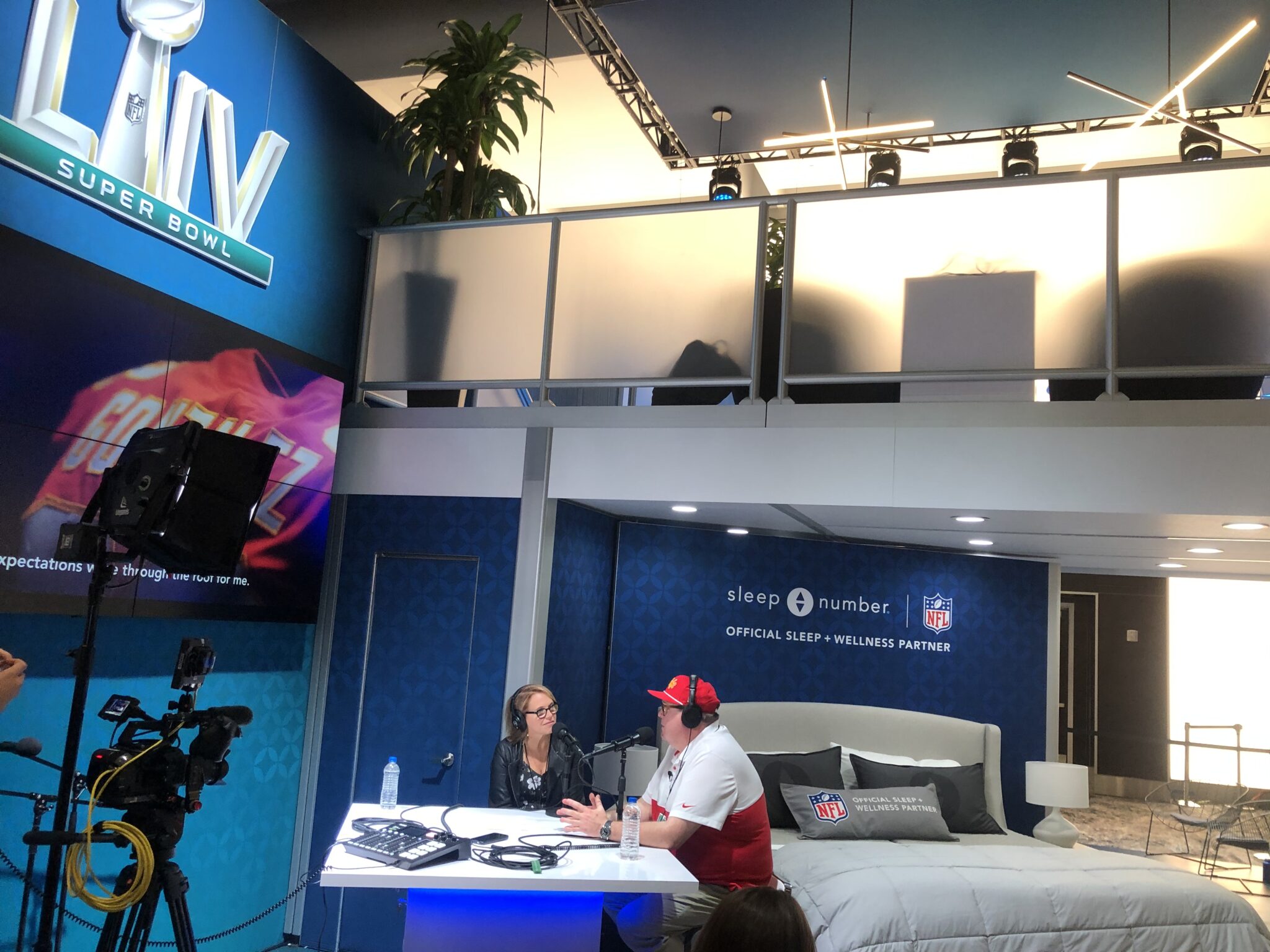 Sleep Number
Sleep Number returned for its second year as an NFL sponsor and the official sleep and wellness partner of the NFL with a consumer-facing activation within the NFL Experience and a media location on Radio Row as its second activation space. At the latter, the brand hosted athletes for interviews and content creation and discussed the importance of quality sleep.
The experiences for consumers included the Zen Zone, where attendees wore sleep masks with sensors and competed to move a football through calming their minds; took a spin on the brand's 360 smart bed while watching a tutorial overhead; design a virtual bedroom with their team's colors and logos; and play a branded game of Plinko.
—
Miami also played host to numerous branded special events, including the following:
Courtyard by Marriott, the official hotel of the NFL, gave Marriott Bonvoy Visa cardmembers an opportunity to use rewards to gain access to an exclusive event, Courtyard House presented by Visa. Attendees experienced live music, including a performance by The Chainsmokers, and appearances from NFL stars. The South Beach space displayed LED lights across a completely blank interior.
Thuzio, which aims to create access to sports icons for a business membership community, hosted a blow-out event to announce its launch in Miami. Co-founded by former NFL legend Tiki Barber, Thuzio invited local business leaders, VIP guests and athletes to join Pro Football Hall of Famer Steve Young and Los Angeles Rams' Aaron Donald in a moderated Q&A. The red carpet event was a showcase of its national event series with 100 events a year planned in 11 major cities.
Read about additional Super Bowl activations in our sister pub Event Marketer—from Verizon's stadium of the future to Lowe's "idyllic NFL community" installation to Poo-Pourri's giant poo experience (yes, really).