Thousands Share Jagermeister's Halloween Snapchat Game
Jagermeister has doubled its spend in the run up to Halloween for a month long augmented reality campaign.
By swiping up on Snapchat codes for the game "Divine the Darke," a Snapchat lens is triggered showing tarot card readings revealing what the brand calls users' "cocktail fate."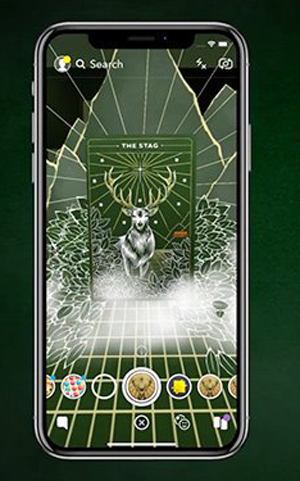 Nine Snapchat codes are embedded on Jägermeister brand materials in bars and retail locations where consumers can scan the codes to unlock the Snapchat lenses. The tarot cards can be viewed on any background surface and then tapped to unlock fortunes like, "Trust in your instincts and follow your gut."
"We really felt this was the best platform to engage with our consumers in the moment. When our target millennial consumers are in bars, we know they're on their mobile devices. We are joining them instead of crashing their party," Heather Kozera, vp of integrated marketing at Mast-Jägermeister, parent company to Jägermeister, told Digiday.
Digiday also reported that just 18 days into the campaign, the AR ads and Snapcodes have driven 32 million impressions, and of those impressions, 450,000 Snapchat users have swiped up into the lens experience. Then, of those who swiped up, 6,000 users have shared the experience, while 3,000 have saved it within Snapchat.
AR also being used in movie theaters with the Noovie ARcade Halloween Experience, which began Sept. 28 and runs through Halloween. Moviegoers can use the Noovie Arcade app to activate AR experience by pointing their mobile cameras at the screen. The experience begins about 20 minutes before two horror flicks, Venom and Halloween in 17,000 theaters.
---
Other articles you might enjoy:
---
"The AR experiences include having a galactic worm hole opening with aliens pouring out or emojis wreaking virtual havoc in the theater lobby," Mediapost reported.
Other brands in the Halloween mix include Bacardi, which put a twist on the ol' standard cocktail recipe video with a splash of ghastly frights.
The video, "Barcardi: The Zombie" is Bacardi's way of sharing some fun cocktail recipes for Halloween, while at the same time promoting two of its brands—Bacardi Superior and Bacardi Black, both ingredients in the cocktail. The film is reminiscent of old school horror flicks and draws  inspiration from classics like The Shining, The Ring, Saw and Psycho. And Burger King is out with its Nightmare King burger, which it says has been scientifically proven to cause nightmares.