They Do: The Knot and WeddingWire Launch WeddingPro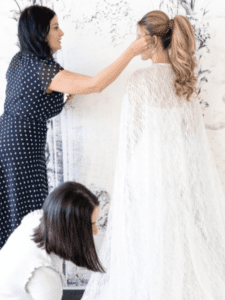 Taking their union to the next level, The Knot and WeddingWire have created WeddingPro.com, a new B2B marketplace for wedding professionals.
The Knot and WeddingWire merged in Dec. 2018. Combined, the sites receive more than 13 million unique viewers each month, and make over one million vendor recommendations daily. Over six million user reviews of wedding vendors are posted on the two sites, which offer messaging and pricing tools to help couples plan their big day.
The new site represents a merger of the business/advertising side of the company, but The Knot and Wedding Wire will continue to operate as independent sites, says Julie Mead, VP of B2B marketing  at The Knot Worldwide, which operates brands in 15 countries across North America, Europe, Latin America and Asia.
When the two sites merged, analysis showed that there was only about one percent overlap in leads generated from both sites. There also weren't significant differences in the audiences as far as demographics, location and budget.
"Most couples look at both sites, so we decided to keep them as separate consumer brands," says Mead. "This creates more opportunities for couples and wedding pros to connect."
WeddingPro will act as an online marketplace to help wedding professionals promote their wares and services, offering educational programs and community events, to help pros network with each other. "So much of the wedding business depends on the relationships you create," notes Mead.
Events to help pros make those connections include monthly educational webinars, as well as day-long workshops around the country where professionals can learn how to grow their businesses, meet potential collaborators and get referrals for future work. Over 10,000 pros took advantage of these opportunities last year, according to the company.
---
You May Also Enjoy:
---
Social media is a major promotional channel for the site. The company is also working with about 40 industry influencers to help grow the company's reach, and is running social campaigns tied events around the year. In June, to celebrate Pride Month and the 50th anniversary of Stonewall, The Knot and WeddingWire partnered with EquallyWed, a Queer-owned feminist LGBTQ+ wedding magazine on "Love Champions," a social media campaign to recognize intentionally inclusive wedding professionals. Fifty wedding pros—nominated by couples and "friendors"—were honored.  "We want to help drive the conversation," says Mead.
The success of  marketing and advertising efforts of WeddingPro for wedding professionals are judged on a metric Mead calls "round trip leads." This means the couple reaches out to a potential wedding vendor, such as a photographer. The vendor responds, and then the couple responds back. Leads that respond back to vendors have increased by 42 percent YOY.
"That means there's a relevant dialogue going on and it's not just one and done," says Mead, who estimates the sites make a million recommendations every day. "We want to send pros the right leads and make the right recommendations for couples. We focus on being accountable."