The Oreo Wonder Vault Surprises Contest Entrants
Oreo's #MyOreoCreation campaign is underway and some of the entrants are about to get a surprise.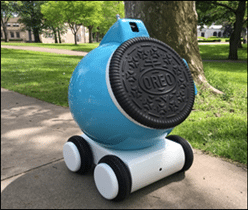 But now, the brand is taking fan engagement into the real world with the latest phase of the campaign. Starting this week, Oreo will be surprising a limited number of fans around the country with a real-life, sample taste of their very own #MyOreoCreation submission idea, delivered right to their doorstep.
The Oreo Wonder Vault bot is wandering neighborhoods to deliver their submission idea in a custom two-cookie sample pack. The remote-controlled robot on four-wheels stands a little over 2-feet tall and 2 feet in diameter and is equipped with an Oreo Wonder Vault door that automatically opens to reveal an extendable tray that houses the fan's sample.
The #MYOreo Creation Contest challenges consumers to develop Oreo's next cookie flavor. People submit their creations using #MyOREOCreation and #Contest on their social media platforms or text a short code with their idea. The submissions will be judged on taste; a smart, creative design; and the flavor's uniqueness. The public and sponsor judges will vote for the winners this summer.
In spring/summer 2018, after the three finalist flavors have been decided, OREO will open up the Grand Prize winner selection to fan voting. Consumers can purchase the finalists' flavors at select retailers nationwide and vote for their favorite to win the Grand Prize title, who will receive $500,000 and unprecedented fan access to OREO creations.
The contest began May 8 and runs through July 14.
Related articles:
7,000 Essay Contest Entries, One Maine Inn and Plenty of Headaches