The Marketing Wizardry of Harry Potter: The Exhibition
Millions of people pour into Harry Potter: The Exhibition, currently on view in Belgium. Sure, visitors learn about the mystical, magical world of the Hogwarts School of Witchcraft and Wizardry, but there is also wizardry to be had in the lessons learned in staging this impressive entertainment-themed consumer experience.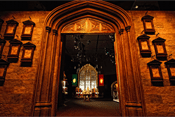 Here you'll find a smoking cauldron filled with six ideas you can steal to up your experiential marketing game, especially as it pertains to staging events and attracting attendees.
For example, crowd control. Standing in endless lines to enter an event can create a negative experience for attendees before they even step foot into the fun. Social posts of lines of unhappy people can circulate at warp speed and turn off followers and fans that might then think twice before coming to the event. The gatekeepers at the 15,000 square-foot exhibition spent a lot of time thinking about crowd control to avoid just such frustrations and came up with timed ticketing as one way to keep crowds manageable. Read the article …
Related articles:
The Differences Between Brand Experience, Experiential and Events
Immersing Customers in Event Marketing
Planning a Brand Event? 6 Ways to Hit a Home Run