Target Redesigns Retail for Wanderers and Quick Shoppers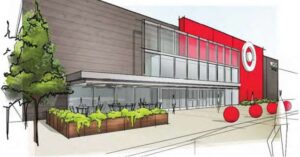 Are you one of those people who can run into Target for one item and get out in under 10 minutes? Or, are you (like me) the type who leisurely roams the entire store?
Either way, Target wants to make you happy. On Monday in Las Vegas, CEO Brian Cornell unveiled a new store layout that will cater to both types of shoppers As the AP's Anne D'Innocenzio reports, those looking to make a quick pit stop for bread and milk or to pick up online purchases will find 10-minute-only parking spaces and a separate entrance. Those looking to make an afternoon of their Target experience will find curved center aisles designed to help them explore.
The retail revamp is, of course, part of Target Corp.'s plan to woo back consumers who have been spending more of their dollars at online retailers like Amazon.com.
"We've got to reimagine that store experience," Cornell said. "Today's Millennial shopper doesn't enjoy shopping one of our tired stores that hasn't been touched in 10 years."
Millennials will show great loyalty to retailers—if they speak the Millennial language. Trader Joe's is one example of a brick and mortar store getting it right. The grocery store offers fun and funky store-brand products found nowhere else, and dresses employees in festive Hawaiian shirts that make them look more like individuals than corporate drones.
Target expects to spend $7 billion on the remodeling plan, as well as expanding its online presence, debuting smaller format stores and launching new brands. The first of the redesigned stores will open in suburban Houston this fall.
Related Articles:
Marketers' Most Wanted: Millennials
Gaps Exist in Cross-Channel Customer Engagement: Study
Keeping Pace With What Customers Want Now: Forrester
West Elm: Come for the Shopping, Stay for the Night?