Keep Pace With What Customers Want Now: Forrester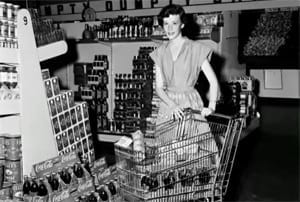 Marketers need to be in touch with what customers want now—you can't be too far behind, but you can't be too far ahead either.
Consider the shopping cart, says Brendan Witcher, principal analyst, eBusiness & channel strategy, Forrester Research. Today, it is a mainstay of the retail experience. Imagine going to a grocery store, and finding out the owner got rid of shopping carts because they couldn't prove their ROI. It would seem insane, because carts are part of your expectations when you go to a grocery store.
But when shopping carts were invented by Sylvan Goldman of the Humpty Dumpty supermarket chain 1937, it took people seven years to adapt to using them. Stores actually had to hire actors to walk around using them to get people used to the concept—men thought they looked effeminate and women thought they looked like baby buggies.
"We need to make smart investments and find the sweet spot to be in tune with customers," says Witcher, who spoke at the recent MITX Ecommerce Summit in Boston.
Today is the age of the customer, and expectations are always rising, he says. Consumers equate digital with value and efficiency, and they often have more tech at their disposal than retail associates, and have more knowledge about products and brands.
Forrester research shows that there are still significant gaps when it comes to using personalization to try and meet customer expectations. Stores are recognizing that it isn't the products they carry that will make them stand out—it's the experience and services they can offer.
Many websites try to personalize offers based on previous purchases, but that doesn't always hit the sport. For example, if you buy a shirt from an etailer, they'll likely show you suggestions for more shirts to buy. Using himself as an example, he notes that he always buys pairs of pants and shirts together, so if he buys a shirt, pants are the logical next recommendation.
"Companies are working towards individualization, but you can only individualize experiences if you know the customer," he says.
Retailers now have access to an abundance of customer data. The trick is using all of that information on demographics, attitudes, sentiments and behaviors in the right context.
"Don't jut ask for customer data without providing value," Witcher says, noting that 51% of retail sales are now influenced in some way by online behavior. "Be smart about it. You have to deliver a better experience in exchange for that data.
Related Articles:
How Wish.com Goes Global in Mobile
Keurig, Ashley Steward and Wayfair Get Personal
5 Strategies for Better B2B Ecommerce