Take a Spin through the Year's Best Auto Activations
From Fashion Week to Fashion Island, New York City to Newport Beach, automotive event marketing has been in high gear.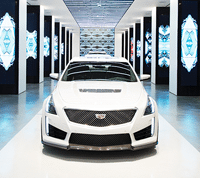 Throughout 2017, the auto brands took to music festivals, film fests and fashion shows, plied the city streets, followed country roads and headed down wilderness trails to connect with car buyers. Along the way, they fired up VR and brain wave technology, built immersive brand houses, forged creative partnerships and even deployed good ol' ride and drives for those incomparable behind-the-wheel experiences.
As they rev up for 2018, we'd like to take you on a spin through the best of the year's auto activations—Acura, Cadillac, Lincoln, Ford, Honda and others—and we're betting there's even more excitement down the road. Read the report from Event Marketer.
Related articles:
5 Ways to Maximize Offline Engagement at Your Live Events