Social Spreads March Madness Marketing Beyond Hardcore Fans
Whether you call it the NCAA Tournament or simply March Madness, the NCAA's sanctioned insanity is back, and you don't need to be a diehard sports fan to go bananas for bracket pools.
The 67-team collegiate championship contains enough Cinderella stories, upsets and raw drama to stock a season of Oscar winners, and brackets have a built-in unpredictability that opens the excitement up to everyone, regardless of their level of expertise or involvement in the sport through the rest of the year. The pool is deep and wide, and there's plenty of room for newcomers to dive in.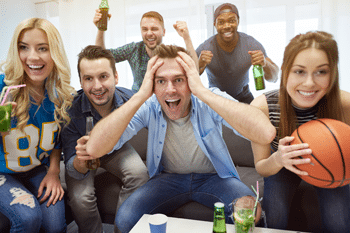 The result is that over 70 million Americans will fill out brackets this year, mainstreaming gambling in a way that may or may not be legal, but is hardly hiding in the shadows. The sure winners, of course, are marketers.
March Madness has grown into the most popular sports showcase for advertisers, ahead of the NFL, NBA and Major League Baseball post-season contests, The Huffington Post reports. In 2016, March Madness averaged 11.3 million viewers through the tournament, with millions of highly-engaged viewers deeply invested in outcomes. And unlike the Super Bowl, its nearest competitor, March Madness allows for repeat brand impressions.
This year, social media will continue its inexorable inroads on fan's viewing habits, and play a key role in marketing March Madness through promotions, experiences, and engagements with fans. The NCAA is deeply entrenched in social, and the brand has a powerful presence in both Facebook (fan page with over 1,080,900 fans) and Twitter (over 815K followers).
How best to take advantage of this engagement opportunity? March Madness is ubiquitous and omnipresent, streamed on CBS, TNT, TBS, TruTV, websites, mobile apps and YouTube. And as viewers continue to move to mobile screens, digital ads that target mobile consumers on phones and tablets are a must-have. But different platforms offer different attractions, for users and for marketers.
When you talk about Sports, you immediately think of Twitter. Timeliness is Twitter's bread and butter and everyone who is covering the games—particularly those with exclusive access that goes beyond what's shown on broadcast television—will be very strong on this platform. Twitter is where the writers and expert commentators are, and their opinions and observations will help drive traffic to articles, websites and television.
Recently, Facebook has embraced video in an even biggger way. That means users are going to see more highlights, more instant replays, more behind the scenes action, and generally a whole lot more dynamic content on this platform.
Snapchat has hit its stride, and having just gone public, is likely to have a bigger footprint this year. The mobile app inked a deal with Turner to create more than 30 "Our Stories" through the course of March Madness. At last year's Olympics, Snapchat premiered "Live Stories" and "Our Stories" is the 2.0 version—live content collected from athletes and sports fans at the scene. Snapchat, of course, is not only about video and access, but also about the fun that users get from custom filters and lenses, and each arena for the 64 participating colleges will be wrapped with themed geo-filters that fans can lay on top of their photos and videos.
Instagram is where viewers will be for spectacular photography of the games, but they are also doing video now, producing their own Instagram Stories, with the ability to go live. And March Madness now has its own YouTube channel, a hub where viewers will watch highlights, profiles of teams and players and stay caught up with the latest action.
For marketers looking to take advantage of the March Madness opportunity, there are only three questions, and they all need to be answered YES:
1. Is the content good for the brand? If it's off-brand, a bigger audience isn't a plus, it's a liability.
2. Is it good for the platform? To get the most bang for your buck, make sure to take advantage of the attributes that distinguish Facebook from Twitter from YouTube and others, and make sure your content finds the right home.
3. Finally, ask yourself, is the content good for the viewer? Big ticket events like March Madness amplify the natural qualities of the social world, where advertising is never a one-way broadcast, but always part of a conversation. Make sure you're holding up your end by sharing something that viewers want and need.
Ben Hordell is a partner at DXagency. He can be reached at [email protected].
Related articles: 
Wendy's NCAA Partnership Kicks Off 3 Weeks of Madness