Wendy's NCAA Partnership Kicks Off 3 Weeks of Madness
March Madness is underway and brands are getting in the game.
One of them, Wendy's, is court-side with its first partnership with the NCAA college basketball tournament.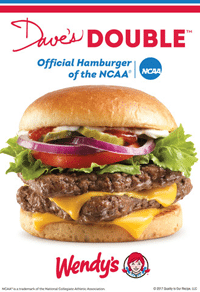 Wendy's plan is to make it clear that it makes it burgers with only fresh beef. That message is woven into the "Unreasonable Effort" campaign that taps into the wild enthusiasm, passion and loyalty college basketball fans have for their respective teams. It's about going the extra mile to provide fresh beef, while fans go the extra mile to support their teams.
"The name of the game is 'Unreasonable Effort' for a high quality result, and Wendy's has plenty of it," says Kurt Kane, chief concept and marketing officer of Wendy's. "It's what ensures that every hamburger at Wendy's is made with fresh, never frozen beef, while most other hamburger places are thawing frozen patties. We don't believe anyone should settle for frozen beef."
As the official hamburger of the NCAA, Wendy's has unveiled a new 30-second TV spot, hit the road with the Wendy's food truck and is staging a tailgate event, a social media blitz and other promotions. March Madness runs from the second week of March through the first week of April.
The campaign kicked off on Selection Sunday, March 12, and ends in Phoenix on Final Four Weekend March 31-April 3. The Drive to the Final Four road trip stops at three colleges—Xavier University, Butler University and University of Louisville—as well as other locations where brand reps are serving cheeseburger samples from the Wendy's food truck. Also dished up at the stops are "Unreasonable Upgrades," like tournament game tickets and gift cards.
The road tour is being chronicled on #Drive2theFinal4 where fans will find Jay Bilas, American college basketball analyst for ESPN and YouTube stars like King Bach, sharing their perspectives.
On Twitter, a bracket builder was designed especially for Wendy's, a first on Twitter, where fans can participate in the #WendysBracket.
The "Tip-Off Tailgate" event in Phoenix winds up the campaign where basketball skills games and a chance for students to take photos of their best shots to share on social media are all ready to roll. Read more …
Related articles:
Virgin Atlantic Rallies Seattle With Free Flight Contest