Marketers' Most Wanted: Sports Fans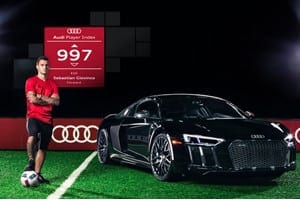 In the Most Wanted series, Chief Marketer looks at some of the top demographic segments marketers need to target in 2017. In this week's spotlight, sports fans.
Who: One could wax philosophical about what makes a person a sports fan, but we're not here for that. For our purposes, let's stick with a baseline definition used by Sports Business Research Network (SBRnet), among others: A sports fan is someone who attended or watched at least one game or event in the past year.
The Stats: There really is no "sports fans market." What you have are markets of fans of specific sports, teams or players. The largest fandom in the U.S., according to SBRnet, belongs to the NFL: nearly 142 million fans ages 13 and older in 2015. Major League Baseball, with 114.4 million fans, was number two, with college football (110 million), NBA (84 million) and college basketball (71.5 million) rounding out the top five. But because the definition of fan used to calculate these numbers was so broad, the figures conceivably include people who watched the Super Bowl at a party but don't know a pigskin from a pig roast or who watched an NCAA basketball game solely because they were participating in a March Madness pool at work.
Another source, the #SCORE 2016 study of sports fans by the Center for the Digital Future at USC Annenberg and sports content site ThePostGame, found that 86% of Americans ages 15 and older considered themselves sports fans. Among men, 92% said they were fans, as did 80% of the women. That breaks out into 208.5 million adults, 24% of whom, or roughly 50 million, described themselves as "intense" fans.
Another way to assess the number of sports fans might be to look at the number of social media followers. The NFL, for instance, has 20.4 million Twitter followers and MLB nearly 6.3 million. The NBA, which had fewer "fans" per SBRnet's definition, has more Twitter followers than the NFL or MLB, at 23.5 million.
Why You Want to Reach Them: However you slice and dice the numbers, it's safe to say that sports fans outnumber nonfans. What's more, "sports fans are the ultimate loyal consumer," says Dan Mannix, president/CEO of New York-based LeadDog Marketing Group. "They watch their favorite teams' games religiously, engage with athletes and sports media online, deck out in team-branded apparel, and create long-lasting rituals with friends and family. Brands and organizations looking to reach a dedicated community that goes all out for what they believe in would benefit from marketing to sports fans."
Preferred Channels: Sports fan are also fans of social media and digital devices. Among participants in the Consumer Electronics Association's 2015 Sports and Technology Study, 23% watched a sporting event while using a computer, tablet or smartphone to engage in other sports-related activities such as viewing another game, participating in online forums, messaging friends or posting on Twitter or Facebook.
And that's just their behavior while watching sports. A 2012 study by New Berlin, WI-based experiential marketing agency GMR Marketing showed that 86% of sports fans have checked social media to get sports info while at work, 74% at a party, 69% during a meal…and (tsk, tsk) 8% while in church.
Of course, sporting events are ripe for experiential marketing. Whether it's hosting tailgating parties in a stadium parking lot to provide samples to game attendees or sponsoring a between-innings contest at a minor-league baseball game, such marketing will rank high in terms of recall and will benefit from being associated with a positive experience on the part of attendees. Such unique, in-person engagements inspire "a lifetime of memories for fans," Mannix says.
Who's Getting It Right: To reinforce its reputation for innovation, auto manufacturer Audi used its partnership with Major League Soccer to invent a high-tech way to rank players. Up to 2,000 player "actions" per game were assigned values and converted into data feeds to create the Audi Player Index, which fans could access in real-time via the MLS app and online at the MLS MatchCenter site. "Fans crave data and new ways to engage with the game," Mannix notes; with its index Audi gave them both.
While Audi's index probably appealed most to "intense" soccer fans, Gatorade's use of virtual reality no doubt appealed to casual as well as hardcore baseball fans. The sports-drink brand used a custom 14-camera rig to capture the point of view of Washington Nationals right fielder and Major League Baseball MVP Bryce Harper while 90 MPH pitches were thrown at him. Gatorade released the VR video on YouTube 360 and Milk VR for Samsung's GearVR. Before doing so, however, it took the video and headsets to a practice session of a Maryland RBI (Reviving Baseball in Inner Cities) team so that the young players could be the first to experience it. Adding to the surprise: After removing the headsets, the kids were greeted by Harper in person. Their delighted reactions were recorded for videos that Gatorade syndicated on Facebook, YouTube and Twitter, enabling even those without access to VR capabilities to participate in the experience, as did a follow-up behind-the-scenes video.
Related Articles:
Marketers' Most Wanted: Millennials
Marketers' Most Wanted: Teachers
Target Embarks on Largest Push Into Sports Teams