Showrooming – Why It Isn't as Bad as Retailers Think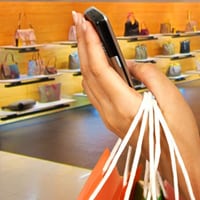 Despite all the media hype about showrooming cannibalizing in-store sales, a new study from Deloitte Digital suggests otherwise. The study, "The New Digital Divide," urges retailers to encourage digital interactions within the store environment.
Contrary to previous reports of in-store shoppers making purchases from Amazon or another ecommerce sites right from their smartphones, the Deloitte study reveals that these connected shoppers actually convert at a 40% higher rate than people not consulting devices in store, and 22% of them spend more as a result.
While that sounds like good news in theory, this does present a problem for retailers that are not integrating digital into the store experience. Kasey Lobaugh, Deloitte's chief retail innovation officer, explains:
"Retailers that narrowly focus on digital commerce, rather than the full journey that leads to a purchase, often fail to recognize how their customers shop and make decisions in the store. The result is a digital divide between what consumers do and what retailers deliver. This gap not only threatens overall revenue, but requires retailers to reset the way they measure and invest in digital efforts."
The explosion of smartphone adoption has proved to be a major advantage to brick-and-mortar sales growth. From 2012 to 2013, Deloitte estimates that the smartphone's influence on in-store purchases tripled – from $159 billion in sales to $593 billion. The hurdle for retailers now is to align their strategies with how these always-on customers think. Connected shoppers no longer view stores and ecommerce sites as two separate channels, and retailers need to rethink their strategies to understand what relevant information shoppers want at every touchpoint along the path to purchase. According to the report:
"An effective digital experience has to be pertinent to the moment – whether at home or in the shopping aisle. The more the digital experience and information match the shopper's needs at a given moment, the more likely she is to buy and the higher the conversion rate."
This is something we talk a lot about – understanding your customers and what they want at every interaction with your brand. Deloitte underscores the importance of personalization in reaching shoppers and influencing them to buy more, calling it "vital to cross-selling" and providing "an important platform to drive order size." We see it as the underlying technology that will help you "connect the dots" about how your customers shop and how you can leverage digital technology both in and out of the store to drive traffic, conversion, order size and loyalty.
As we've said before on this blog, the brick-and-mortar store is far from dead. In fact, it's an incredibly powerful asset if used to create unique and engaging omnichannel shopping experiences for your customers.
Graeme Grant is president and COO of CQuotient.