Optimal Social Media Engagement Times For Marketers Amid COVID-19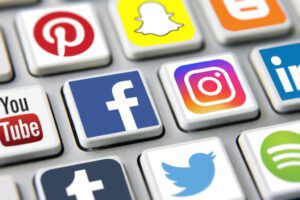 With so many more Americans adjusting to work-from-home situations, social media usage and behaviors have undergone changes, too. And with that comes new priorities and interests from audiences. Analyzing data from approximately 11,000 brands between January 1 and April 15 this year, Sprout Social has determined that there are new optimal times for marketers to post on social platforms in order to maximize engagement.
Facebook
Previously, Sprout Social reported the optimal time to post on Facebook was 11 a.m. and 1-2 p.m., with Wednesday as a peak day. New data shows that activity is now—not surprisingly—more consistent across all days. The best times to post are now Monday, Wednesday and Friday from 10-11 a.m. Every day at 11 a.m. experiences a slight peak compared to other times during the day, and a drop-off occurs after 5 p.m.
Instagram
Similar to Facebook, peak times on Instagram have expanded. Prior to COVID-19, the best times to post were Wednesday at 11 a.m. and Friday 10-11 a.m. Now, Monday, Tuesday and Friday at 11 a.m. are optimal times as well as Tuesday at 2 p.m. Moreover, Instagram is now seeing a new drop-off of activity after 6 p.m. during the week, but Sundays are now highly active from 9 a.m. to 5 p.m. compared to previously.
Twitter
For this platform, usage has remained fairly consistent. However, optimal times to post have moved from Wednesday and Friday at 9 a.m. to Friday from 7-9 a.m.
LinkedIn
Engagement on this professionally-focused network have begun later and end later as well, according to Sprout Social data. The day is now most active from 8 a.m. to 4 p.m. instead of 7 a.m. to 3 p.m. Recommended posting times shifted slightly, from Wednesday 8-10 a.m. and noon; Thursday at 9 a.m. and 1-2 p.m.; and Friday at 9 a.m. to these times: Wednesday at 3 p.m., Thursday from 9-10 a.m. and Friday 11 a.m. to noon.
---
Other articles you might enjoy:
---