On the Runway: Taco Bell Bodysuits & Hoodies
Taco Bell has its history of quirky marketing stunts. Here's another: It held a full-on fashion show with models strutting down the runway in hot sauce bodysuits and purple anoraks.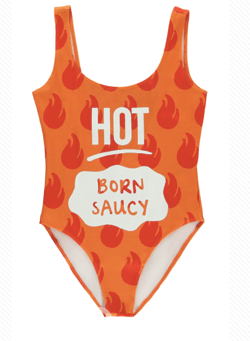 The event not only unveiled Taco Bell's new clothing line, but also its fashion collaboration with Forever 21, which includes hoodies, sweatshirts, iPhone cases and more for women, men and girls, Bloomberg news said. The limited-edition merchandise hit stores last week as part of a broader strategy to commercialize Taco Bell and its menu items and move the brand into pop culture.
Earlier this year, Taco Bell opened its first flagship restaurant and retail shop on the Las Vegas Strip. Customers can buy branded t-shirts, alcoholic freezes, beer on tap and exclusive souvenirs and, of course, items from the Taco Bell menu. But in a real twist on the definition of a fast-food joint, Taco Bell is offering a play on the Las Vegas wedding chapel with a menu item for $600, "The Wedding Package." The package includes a Taco Bell garter, bow tie, sauce packet wedding bouquet, "Just Married" t-shirts, Taco Bell champagne flutes and a Cinnabon Delights Wedding Cake.
The restaurant is part of its strategy to add an indie-cult, cool factor to its brand. It has promoted taco socks, held Halloween parties and run a number of campaigns to reach the masses, incluiding "$5 Cravings Deal" and "The Feast for $1 All Day."
"This is part of delivering on our value without comprise. These are the mass parts of our proposition, speaking to a broad audience with the value proposition," Marisa Thalberg, Taco Bell's CMO said earlier this year.

Related articles:
Taco Bell Shifts Marketing Strategy Says CMO Marisa Thalberg
Taco Bell—Cult-Like and Performing Weddings: CMO Marisa Thalberg