Taco Bell—Cult-Like and Performing Weddings: CMO Marisa Thalberg
How do you take a far-reaching, mass-market brand like Taco Bell and add an indie-cult cool factor to it? Just ask Marisa Thalberg, Taco Bell's CMO.
"Asking this question is at the heart of how we have been creating success at Taco Bell," she says.
Over the last year, with a slimmed-down marketing team and amped up innovation, new logos have been created, including one themed for music, and a handful of campaigns that led the way to its new mass-indie-cult status.
The first, was the launch last year of the Quesalupa, a cheese-stuffed cross between a quesadilla and a chalupa. The launch kicked off on the biggest mass stage of all, Super Bowl 50, with a impressive mass-market message, "Bigger than Everything" that spoofed man-buns, drones, Tinder, hoverboards and even football. Watch the ad:
"There is a responsibility when you're playing with that amount of money," Thalberg said at the ANA Brand Master Conference. The ad "reflects the new way this brand plays in culture and has a little bit of sense of wit. The whole concept was taking mini fads trending at that moment and playing with them."
At the same time, Taco Bell hacked into local pop cultural. Small-town heroes were featured in spots that ran just in local markets or picked up on YouTube.
"Part of the charm is how (the ads) worked together," she says.
The Texas Law Hawk YouTube spot:

Before the Super Bowl even began, the idea of "Bigger than Everything" was teased in a "redacted" press release distributed to PR partners. It added on an experiment, offering the Quesalupa to die-hard fans who pre-ordered via the Taco Bell app, one day before the Super Bowl spot would air.
"It was super playful and super low risk,"  says Thalberg.
Taco Bell fans bought in big time with 71,000 pre-orders.
"That's fan love," she says. "We had a tremendous amount of fun. Galvanizing fans with the pre-order and then debuting the ad on the Super Bowl worked together to create a great launch."
Afterwards, the brand hit a few rough spots and had to dig a little deeper to create a multilayered strategy that gave it levers to push and pull as needed both in sales and for brand awareness.
The second campaign ran last fall to bring back the "$5 cravings Deal" and "The Feast for $1 All Day" promo to the masses.
"This is part of delivering on our value without comprise," Thalberg says. "These are the mass parts of our proposition, speaking to a broad audience with the value proposition."
And in comes the indie cult side. Taco Bell threw a Halloween costume party last year for its customers and plans to commercialize one of the costumes and make it available for sale this coming Halloween.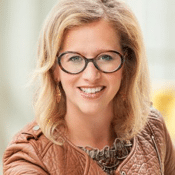 To continue its roll as a mass-cult-like brand, it opened its first flagship two-story restaurant/retail shop on the Las Vegas Strip. Customers can buy branded t-shirts, alcoholic freezes, beer on tap and exclusive souvenirs and, of course, items from the Taco Bell menu. But in a real twist on the definition of a fast-food joint, Taco Bell is offering an unusual item on its Las Vegas menu: a wedding package. The package includes a Taco Bell garter, bow tie, Sauce Packet wedding bouquet, "Just Married" t-shirts, Taco Bell champagne flutes and a Cinnabon Delights Wedding Cake.
And in their first move as a wedded couple, the two will enjoy a Taco 12 Pack. The package rings in at $600 and includes a full ceremony and support from Flora Pop, which specializes in pop-up weddings and elopements. Thalberg says that the company is acting on an insight it has know for years, that customers incorporate Taco Bell into post wedding festivities.
In advance of the first wedding ceremony this summer, couples can enter the Love and Tacos Contest and Happily Ever Crashers Sweepstakes to win an all-expense paid trip to be the first couple to get married at the restaurant. The winners will stay at Planet Hollywood. The contest opened on Valentine's Day and closes Feb. 26.
To enter, couples share a photo or 30-second video telling their Taco Bell love story on Twitter or Instagram using the hashtag #LoveAndTacosContest. Once the contest closes, America steps in to vote with the winners announced March 16. To add to the fun, every person who votes is entered into a sweepstakes for the chance to be a guest at the winning couple's wedding.
"It's not yesterday's Taco Bell for sure," Thalberg says.
Related articles:
How American Greetings Aligned with Digital to Sell Greeting Cards