New App Helps Hartford Funds Reach Financial Advisors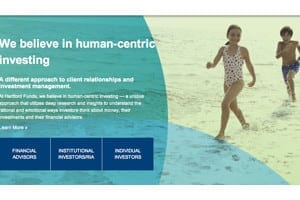 A pair of new mobile apps is helping Hartford Funds market to both internal reps and financial advisors who recommend products to their customers.
"These are two diverse audiences," noted Mark Kitson, director of digital marketing, Hartford Funds, who spoke at the Adobe Summit this week.
A major challenge was to differentiate the brand from the competition. "Performance cannot be the only reason to choose a mutual fund company," he says. "Insights and value added content are key differentiators."
Hartford Funds' products must be purchased through financial advisors. Their marketing efforts also work to help wholesalers within the organization, who work to promote Hartford to the advisors.
The brand wanted to deliver sales material—like stats about funds, whitepaper PDFs and video—in an engaging and easy to access format.
It also wanted to take content created for one channel and leverage it in another—for example, use case studies created for email to help populate the mobile app in a responsive format, powered by Adobe Experience Manager Mobile.
The first app, created for the internal wholesalers, launched in February. An app for financial advisors will launch in April.
So far, reps are adapting to the app quickly. Of the 66 that are using it, 90% report using it at least once a week, and 50% are using it on a daily basis.
The audience for the financial advisor app will be significantly larger; there's a potential user base of 30,000 reps around the country. The app's content will be updated quickly, and it will be the first public presence of Hartford Funds in the App Store.
 More From the Adobe Summit:
Mattel Becomes Relevant Again By Reinventing Barbie
The Social Sides of Comedy Central, McDonald's and George Clooney
Motel 6 Targets Road Warriors With Mobile First Strategy
Adobe Debuts Cross-Device Co-op