Live From Adobe: The Social Sides of Comedy Central, McDonald's and George Clooney
At the Adobe Summit this week in Las Vegas, creating engagement via social media was a huge topic for many keynoters. A number of notables—including Comedy Central CMO Walter Levitt, McDonald's CMO Deborah Wahl and a little known actor named George Clooney—shared how they do (or in Clooney's case absolutely don't) utilize social to connect with their audiences.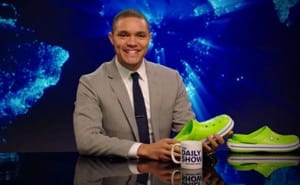 The Funny Business of Comedy Central
Comedy Central's core audience, males 18-34, have a deeper relationship with comedy than any cohort ever before. "Their taste in comedy is important in identifying who they are," said Walter Levitt, CMO of Comedy Central.
"We need to be the favorite comedy brand for Millennials anywhere they are looking to laugh," he said. "Comedy Central is not a TV network, Comedy Central is brand. Our content is now anywhere Millennials are, on every social platform."
One of Comedy Central's biggest brands, "The Daily Show," went through a significant change when Jon Stewart stepped down and Trevor Noah took over hosting duties. Noah, age 32, is the only Millennial aged late night host.
As the show launched, the network noticed many online searches for Trevor Noah, around things like "Trevor Noah single" or "Trevor Noah girlfriend." They thought it would be fun to have Noah create videos responding to those search queries. The catch—you only found them if you searched specific promoted terms on Google.
Over 21 "hidden videos" were created on everything from Noah's opinions on autotune to Crocs, and created tremendous buzz for the new show. You can find a complete list of the videos here.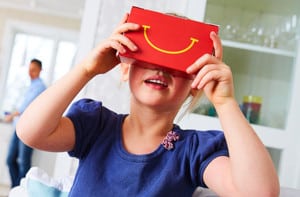 For McDonald's Fast Isn't Just Food, It's Mobile
Eighteen months ago, McDonald's began a supersized digital transformation. In a year and a half, the burger titan went from having no mobile presence to having a thriving app with 10 million downloads.
McDonald's also now has kiosks in over 1,000 restaurants around the country where people can place orders, said Deborah Wahl, senior vice president/CMO.
"We need to keep responding to that conversation, and see where the biggest customer needs are," she said, noting the brand is mentioned in social every 1.5 seconds.
Online and social buzz builds from promotions such as the current Texas Burger Showdown, where diners in Houston can create customized burgers. Burger Build Offs in other cities have resulted in 350% increases in site clickthroughs.
The chain's tech revolutions are reaching customers of all ages. It recently introduced Happy Meal boxes that can transform into virtual reality headsets.
"There's an incremental power in little things," Wahl said. "We see big gains from day-to-day optimization that will build the business."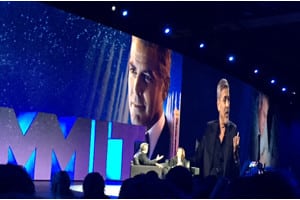 Why George Clooney Shouldn't Be on Social Media
What marketing wisdom did George Clooney share at the Adobe Summit? None, but did anyone really expect that from the superstar actor?
Clooney gave the audience what they wanted, oozing charm from every pore and sharing anecdotes about his fondness for playing elaborate pranks (Brad Pitt is one of his favorite targets because he gives as good as he gets. "I've got one planned that will ruin his career," Clooney said with a smile), his disasterous time as the Caped Crusader ("That was a bad film and I was bad in it. I almost singlehandedly destroyed the Batman franchise. Hey, I tried.") and why he isn't on social media.
It isn't that he hates social media, it's just that he doesn't want to take the risk. "I could get into a lot of trouble. Say I've had a few drinks and I'm watching TV and see something and tweet 'F- that guy.!' I could go to bed, wake up and have 5,000 people saying 'F-you!'," he said, laughing.
"You can't help it, sometimes you're going to do something stupid," he added, noting notorious Twitter flubs by celebrities like Susan Boyle, Gilbert Gotfried and Russell Crowe. "I feel like I'd get into trouble."
Clooney noted that some of his friends do a great job of expressing themselves on Twitter, but he'd rather meet fans in person and hear what they think.
Of course, social media has had a significant impact on Hollywood. He noted that when he is directing a film, actresses will come into read for a part and after their audition, the studio people will note how many social followers the actress has, thinking it should be taken into consideration when casting. "It can be a tricky thing."
 More From Adobe Summit:
Motel 6 Targets Road Warriors With Mobile First Strategy