Motel 6 Targets Road Warriors With Mobile First Strategy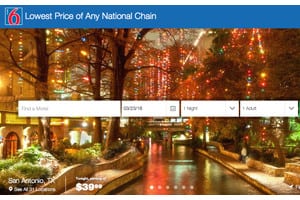 A new responsive website has resulted in a 38% lift in mobile conversions and a 45% lift in desktop conversions for Motel 6.
When Motel 6 was acquired by Blackstone Group two years ago, the brand had an 8 year old legacy website that didn't represent the brand well or truly serve the brand's core audience of road warriors.
Forty-five percent of Motel 6's business is booked online for same-day stays, so it was vital to connect with these on-the-go travelers, says Jeff Thomas, director, ecommerce and distribution, G6 Hospitality.
The company's portfolio includes Motel 6's 1,200 properties, the Studio 6 extended stay chain of 100 properties and the soon to debut Hotel 6 and Studio 6 expansion into Latin America.
IT was managing the old site. "Marketing wanted more control over the digital experience," says Thomas, speaking this week at the Adobe Summit in Las Vegas.
With a new mobile first strategy, the brand wanted to focus on touchpoints that were relevant to its road warriors, including geolocation, customer reviews, faster site load times, content that showcased Motel 6's updated sleek room designs, improved SEO and fewer clicks from discovery to booking.
G6 worked with Adobe's consulting team to help create an agile methodology to make all this happen, instituting daily scrums, planning meetings and regular executive reviews to make IT an active partner in the process with marketing. A core group including the CMO, the vice president of commerce and executives from Blackstone helped get buy-in from the entire executive structure.
The company now has a workflow that manages content from creation all the way through the marketing cloud., with a data first strategy. "Analytics is our north star—everything is data-driven," says Thomas.
The new site has led to a 10% reduction in mobile bounce rates and a 25% drop in desktop bounce rates, and a 21% increase in revenue. Reservations are up 27% and conversion rates are up 51%.