Mattel Becomes Relevant Again By Reinventing Barbie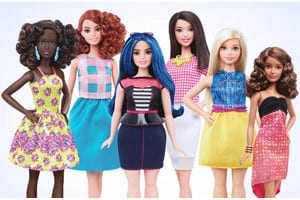 Barbie has always been a gal of action, and her latest big move was to help reinvent Mattel, the company that created her.
"To find your way forward you have to figure out what made you special in the first place," said Richard Dickson, president and COO, Mattel at a keynote at the Adobe Summit this week. "At some point we stopped looking into the future as we did before. We failed to realize how fast the business was changing. Our ideas lacked purpose."
The company had devolved from an idea based organization to a packaged goods company that made toys, he said. The brands lost relevance and performance suffered.
There was no greater reinvention challenge than Barbie. Because the brand was so iconic, there was a lot at stake, After all, Barbie herself was revolutionary when she was introduced—she was the next generation iteration of the old-fashioned paper doll.
But over time, the Barbie empowerment message had become too broad and unfocused. Mattel needed to reboot Barbie and disrupt the category that they created.
It began by listening to their customers—this meant really focusing on not only kids and the moms but to the culture as well.
Mattel introduced a more diverse range of Barbies, debuting over 20 new dolls with different skin tones, hair colors and hair textures. And, it even gave Barbie a flexible ankle and foot, freeing her from the tyranny of high heels.
A short film, "When Girls Are Free to Imagine They Can Be Anything," accompanied the debut of the new dolls, resulting in 50 million views and 500 million social engagements, 81% of which were positive.
"We reframed the conversation," said Dickinson.
Next, Mattel targeted the shape of Barbie herself. Her gravity defying figure has always been a source of controversy and concern to some mothers. Mattel understood this, but moved cautiously, for fear of making a mistake. The company introduced new body shapes for Barbie, including curvy, tall and petite, resulting in 5.6 billion media impressions worldwide, a Time magazine cover and Barbie's first appearance as a trending topic on Yahoo.
Dolls of all different kinds of real women are also being introduced. A Barbie based on another Adobe keynoter, world champion soccer player Abby Wambach, will debut later this year. "It's cool to have an impact, because everyone looks different," she said.
More From the 2016 Adobe Summit:
The Social Sides of Comedy Central, McDonald's and George Clooney
Motel 6 Targets Road Warriors With Mobile First Strategy