Great Wolf Lodge Uses Storytelling, Not Sales
Great Wolf Lodge, the chain of 14 indoor waterpark resorts, recently debuted a series of four intimate long-form videos aimed at Millennials, exploring what it means to be a modern family.
One thing that is notable about the videos is how little branding or selling is featured. Instead, the stories that unfold get the message across on an emotional level. It's a trend in branded video that plays to the ever-evolving marketing tactics required to reach Millennial consumers, who have an innate distrust of advertising.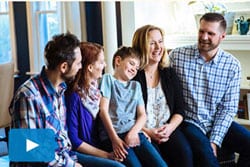 "It can be daunting, but confidence is gained by what led to the underlying strategy," says Chris LaScala, vice president of marketing at Great Wolf Lodge. "The idea was a direct result of the significant amount of research we executed over the last year to best understand our evolving target markets, including Millennials and Latinos; the dynamics of the family travel decision-making process, and specifically how our brand is perceived. It's more authentic and organic than anything we've done in the past."
In the Great Wolf Lodge documentary video series, the triumphs and challenges of four families are showcased, from divorce and military deployment to cancer and foster care. The films explore those challenges before the families take a trip to Great Wolf Lodge, where the backdrop of the park plays the lead branding role.
"From a messaging perspective, Millennials appreciate transparency and authenticity from brands," LaScala says." They appreciate experiences over material goods, and they often travel with extended family or friends. We thought the campaign would be an effective way to share some very compelling, genuine family stories wrapped in our brand. At the end of the day, the traditional nuclear family structure is more the exception than the rule. Family is much more complicated and self-defined than it has ever been. "
These changing dynamics have a direct effect on every aspect of family life, including how and where families vacation.
And of course, Millennials are also avid users of mobile and love watching video on those devices. Four in five Millennials like the convenience of watching video on mobile versus other devices and 95% watch videos at least once per week on their mobiles, according to a study conducted last fall by Yahoo & Millward Brown. Videos uploaded to YouTube alone last December generated more than 60 billion views.
The Great Wolf videos, produced by Hill Holliday, live at www.greatwolf.com/stories and on YouTube. Some elements will be repurposed for TV spots and social media plays an important role in viral share. Radio, digital and print also support the campaign. Future plans include producing more family stories, featuring both guests as well as employees, and soliciting and sharing user-generated content."
"We still maintain a healthy amount of more product-driven content in our marketing mix to carry the freight when it comes to quick, compelling communication of the brand experience," says LaScala.
"We put Great Wolf Lodge in the backdrop and let the families be in the forefront, which took a lot of trust from Great Wolf Lodge," says Lawson Clarke, creative director at Hill Holliday. "But in the end it makes for more engaging content. You watch because it's engaging and something you see in your own family. You see a family go on vacation and you see everything in the park but you haven't been sold it."
Influencers, including mommy bloggers, will play an important role as word-of-mouth drives most purchases. Women in general spend more time looking at things like comments and reviews before making their decisions, according to eMarketer. And 62% of Millennials surveyed by NewsCred agreed that, "the content they read and see online—on websites, social media, in the news—from a company makes them feel more connected and loyal to the brand."
"The strategy around storytelling is not to sell, but rather to tell stories, authentically and with credibility as a way to entertain," Lawson says. "If people feel something genuine, it gets passed around."