Marketers Missing Cues, Unable to Unlock Data: Study
Listening to customers, and then taking action, has driven some of the biggest marketing moments for brands.
But a newly released study has found many marketers still struggle when it comes to listening for the signals and cues that matter about customer behavior in the omni-channel landscape.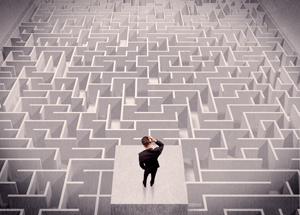 Some 41 percent of respondents said they are doing a fairly good job at listening, but admit that while they are able to aggregate intelligence in some channels, they are struggling in others. Another 34 percent admitted to just doing an okay job, listening the best they can, but not necessarily understanding what the customer actually wants or needs from the noise. Another 29 percent reported they are also struggling to remember that the customer is actually human and not just an inbox or target.
"Marketers admit that the biggest challenge the organization faces while working to develop lasting customer relationships is actually remembering the relationship itself and not solely focusing on getting campaigns out the door," according to the "Bringing a Human Voice to Customer Choice" report from the CMO Council and Harte Hanks.
The problem may lie in organizations settling for passive hearing instead of active listening leaving little opportunity to aggregate quality real-time behaviors and cues left by consumers. These passive hearing channels include email, social, user-generated content, mobile and chatbot sessions.
"These moments allow an organization to react to problems, resolving potentially negative experiences through quick action. They rarely provide a real-time view into intentions, behaviors, needs or even aspirations: They are postcards of a customer's life, when marketers are looking for a real-time movie," the report said.
---
You May Also Enjoy:
---
Other highlights include:
• Few marketers feel they are able to unlock the opportunity in the channels and the data already in use. This doubt is contributing to a hesitancy to expand and further explore what is new in omni-channel engagement.
• When asked what new opportunities and tools might be included in experience strategies over the next year, the slim majority (32 percent) indicate there are no plans to bring on new touch points. The top solution being deployed is chatbots and cognitive advisors to engage in real-time with the customer, followed by reshaping the contact center to better address and accelerate resolution.
• Marketers admit that all forms of data present a challenge to the organization.
• Only 10 percent of marketers believe their organization is fully prepared to take advantage of the micro-moments of opportunity small data could reveal. Thirty-six percent of respondents actually believe they are "fairly prepared" to implement points of connection across the Internet of Things, but they are less confident in the organization's ability to act in real time.
To "bring human back to marketing" was summarized into five critical mantras and strategies:
1. It is time to ditch broad personas. Marketers must put a real person at the center of strategy.
2. It is time to eliminate the "aspiration" of customer centricity. Marketers must recommit to customer centricity in action.
3. It is time to listen to the voice of the customer and not just hear the noise of data.
4. Listening is at the core of building a bi-directional conversation.
5. It is time to reflect real human behavior. Shifting engagement patterns to better replicate and reflect the tone and cadence of interactions in real life
6. It is time to remember that behind every data point is a person. Data is the digital manifestation of every human being that has interacted and engaged with our brand.
"Consumers will always tell us what they need and when they need it. We just have to listen. The small data clues they leave behind can enrich our current customer profiles and give us the insight we need to craft the right combination of message, channel and timing," the report concluded.