l'Oréal Chief Digital Officer Talks 2021 Digital Marketing Trends
If brands weren't focused on digital transformation before 2020, they most certainly are now. It's one of this year's overarching themes, and those companies that have accelerated the implementation of digital marketing tactics like social selling, ecommerce, online personalization and AI automation are standing out above the rest.
One such brand is L'Oréal, whose ecommerce business now represents 25 percent of company revenues—up from just two percent in 2014. We spoke with Chief Digital Officer Lubomira Rochet about the strategy behind the company's recent investment in social selling platform Replika Software, how the shopping experience in the beauty industry is reinventing itself and what digital shopping trends marketers should be keeping an eye on in the coming year.
Chief Marketer: Tell me about the decision to invest in Replika Software. What's the strategy behind it?
Lubomira Rochet: It's not our first. The big move was to acquire a company called Modiface two years ago. Modiface is an augmented reality and artificial intelligence beauty company. For us, it's about building an ecosystem of digital and tech innovation to make sure that we are connected to the best entrepreneurs out there and that we can use those capabilities to accelerate our digital transformation. Modiface was about augmented reality. Replika is an investment. And Replika is all about social commerce. We see that as a very big trend and we want to scale it for our brands in all our countries.
CM: Do you use the platform right now? Will there be a rollout to various brands?
LR: We do use the platform. It's used in Europe for now, for brands like Lancome and our professional brands, so L'Oréal Professionnel or Kerastase… It's an interesting platform for us to accelerate and scale social commerce. We have plans to accelerate the deployment of Replika with our brands and to more countries. It will take place next year. And we are very ambitious about it.
CM: How is this particular platform different from the other ecommerce platforms you use?
LR: It's completely different. It's about social commerce, so think of stylists or hairdressers, think of influencers, think beauty advisors… It's about empowering that ecosystem of people already working with, loving and knowing our brands to become even more powerful advocates and social sellers of those brands online on platforms like Instagram or Facebook or WhatsApp. We see more and more of those platforms embracing commerce as a next step in their journey. It's empowering them to have the right content for our brands, the right assets to put on live-streaming, on Instagram, so that they can become the best sellers of our brands online.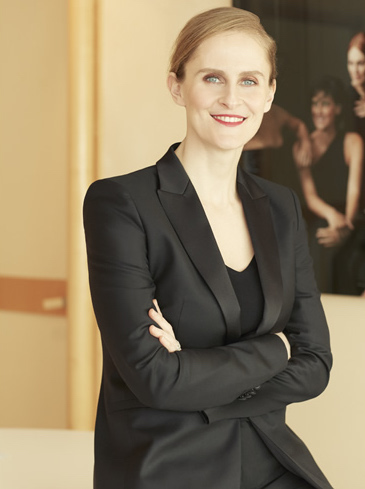 CM: Ecommerce currently represents 25 percent of L'Oréal revenues. What do you want that number to get to? What is your goal?
LR: We came from two percent in 2014, so in less than seven years we moved from two to 25 percent. The idea is not to have a goal, but to be consumer-centric, and particularly follow consumers where they are. Of course, COVID has accelerated this. More and more, consumers are enjoying the online shopping experience, because it's more convenient, you have more choice, you have great services and you have great content. The online shopping experience is reinventing itself. And it has brought new consumers, new demographics. We believe that what happened during COVID, the amazing acceleration of ecommerce, is not a bubble and is here to stay.
Ecommerce will continue to grow. We see a moment when 50 percent of our sales will be online. Is it in three, four, five, 10 years? We don't know, but we know that this moment will happen. To prepare ourselves for that, we invest in people with capabilities, in technologies such as Replika, so that we are ready.
CM: Is this part of a larger plan of investments or acquisitions?
LR: It is on an ad hoc basis, so we'll see what comes to us. We have a structured ecosystem of what we call "open innovation." It's a way to be connected to VCs, to accelerators or incubators, in the U.S., in Europe, in Asia. We have an investment fund, BOLD, at L'Oréal. So, we structured the capacity to, one, get connected to the ecosystem and [identify] the right technology for us, and two, have the financing arm with BOLD. It's not the last move we'll make. We'll continue to invest in this digi-tech ecosystem innovation for our brands and our consumers.
CM: How did the pandemic accelerate your ecommerce business?
LR: We recorded growth above 60 percent this year. It's not the end of the year, so we'll see where it ends, but at the end of September we were above 60 percent. Ecommerce was 24 percent, about one quarter of the sales. People got used to—especially during the COVID period—buying online. Our mission is also to continue to invest and work with our partners, like Amazon, Macy's, Sephora and Target, to continue to invest, to improve and elevate the experience everywhere where consumers shop.
This is why we have decided to open source our services. So, things like virtual makeup try-ons or hair color try-ons… Our plan is to make those great services with the technology available to our retailers so that we can [enhance] the beauty category together online. I've never seen opposition between brick and mortar and the online world. For me, what was very striking during COVID was the acceleration of traditional brick and mortar embracing digital transition and digital transformation… We saw triple digit growth coming from Target and from Walmart, and from European distributors. That's a clear sign of the times and that's not something that's going to stop. We are entering into this omnichannel online and offline world, where our traditional partners are going online. We are there to work with them, to partner with them, and it creates new opportunities and new experiences for consumers.
CM: Shifting gears a bit… what do you see as the biggest digital trends coming online for 2021 that would be of interest to marketers?
LR: Continuing with ecommerce, we are going to see a complete reinvention of the shopping experience. If you think about it, the ecommerce experience has not changed dramatically for the past 10 years. It's having those beautiful product pages—the product and some content—and that's great, but people expect to have more services, more content, more of an experience. It's moving from convenience to experience—providing better services for enriching the shopping experience, providing more content, providing more entertainment. The whole entertainment/retail/retailtainment trend is starting to be interesting. It's like QVC on steroids, with modern digital technology with interactive comments popping up. This is coming to Instagram, to Facebook, to all the platforms. It's a reinvention of the shopping experience at the intersection of entertainment, gaming and services. It's a great way to continue to improve the shopping experience everywhere.
What we also see is the rise of conversations. People have started to communicate through tons of channels. It could be by email, by WhatsApp, Messenger, it could be leaving a comment on Instagram. We've had 40 percent more of those conversations during COVID. That translates to the appetite for consumers to directly connect to us, to our brands, to our experts. And this is something that for me is moving from marketing that was very visual—especially in beauty—to becoming more and more conversational marketing whereby we have to completely reinvent our consumer care services, our community management, to be able to satisfy this appetite for conversations from our consumers. We see pretty siloed teams—consumer care, community management, retail—converging together, embracing the consumer online and offline and creating consumer engagement and activation.
CM: How are you specifically integrating technology into the consumer experience?
LR: The whole notion of product plus services is becoming a big trend. Every vertical has its own way of building and strategizing for its services. For us, it has been around augmented reality and the diagnostic and virtual try-on. Why does it matter? Not because of the technology; it's not because AR is cool. It's because it's solving a problem. It's solving the problem of choice. In beauty, you have massive choice. You are in front of thousands of colors for your lipstick or your hair color. With augmented reality, you can try different colors on your smartphone and see what's best for you. Maybe have access to a virtual consultation with a beauty advisor or beauty expert. Then it creates this whole notion of "guide me through the choice I have."
In the category of skincare, for example, we've built this amazing skincare diagnostic called Skin Doctor. The idea is to evaluate 17 signs of skin concerns. It can be wrinkles, it can be pores, pigmentation, hydration… Then you get a score that highlights the areas for improvement and a personalized routine based on your skin concern. This is being uploaded by consumers because it helps them choose the right product and the right routine.
CM: How do you suggest that marketers stay on top of digital trends in the coming year? Do you have any advice for them?
LR: My advice would be to be on the platforms. That's basic and obvious, but there are so many marketers that are not fully on the platforms, understanding reverse engineering, how it works, the algorithm… It's a lot of trial—and if you're not there, if you don't experiment with the platforms every day, it's hard to get to playbooks and rules and be able to inspire your whole marketing organization around what the new playbooks for content are. That's very big. I apply that advice to myself every day.