Local Kiss the Kia Contest Goes Viral
When it comes to marketing, if you do something zany enough, you're sure to get plenty of social sweetness.
Kia has drawn a lot of attention to its brand by staging a "Kiss the Kia" local contest that is sweeping across social media.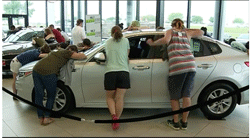 The contest requires people to keep their lips on a 2017 Kia Optima and whoever is still "kissing" after 50 hours wins the car. Each contestant gets one 10-minute break per hour, but other than that lips need to be pressed against the car.
The stunt is being held at the Southwest Kia in Round Rock, Texas, and is hosted by radio station 96.7 KISS FM. On social, the 20 contestants can be seen standing, squatting and draped over the vehicles in an attempt to be the ultimate winner. If more than one person is still in the contest at the 50 hour mark, a random drawing with choose the ultimate winner.
Just like April the Giraffe, who drew between 250,000 and 1.2 million viewers to wait and watch her give birth live over the weekend, people can live stream the "Kiss the Kia" contest. However less than 300 are watching today, but that will likely ramp up as the 50 hours draws near. Even so, this local promotion has been picked up by major media outlets and is soaring across social media giving Kia plenty of attention beyond the local Kia dealership. Read the article …
Related articles:
A Primer in Sweepstakes Marketing