Influencer Marketing Benefits, Challenges, Facts: Infographic
This just published infographic, "Is Influencer Marketing
The Future Of Marketing?" covers the importance of influencer
marketing to businesses along with its benefits, challenges and other
facts.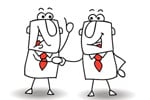 For example, one section covers "Stats and Facts" such as 93% of professionals say influencer marketing is effective for building brand awareness and that 69% of marketers consider influencer marketing effective.
Also included in the infographic are the five top performing social channels for influencer marketing, the top five influencer engagement platforms, the top 3 analytics platforms, the top reasons why your influencer program failed and other information. View the infographic.
Related articles:
Influencer Marketing Do's and Don'ts
Five Influencer Marketing Trends that are Changing the Game
5 Ways Influencer Marketing Transforms Retail Sales