5 Influencer Marketing Trends That Are Changing the Game
There are many tried and true strategies when it comes to generating sales online. But with the nonstop growth in influencer popularity (whether it's a social media personality, a blogger with a killer fan base, or both) influencer marketing has become the hottest tool in the marketer's toolbox.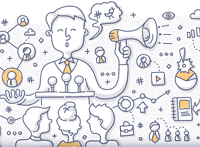 More and more brands are discovering the power of using the right storytellers, with 59% of marketers planning to increase their spend on influencer marketing during the year. The strategy has gained mass popularity—and rightly so. Influencer marketing isn't just the fastest-growing channel for customer acquisition; it's the most cost effective, returning $6.85 in earned media value for every $1.00 of paid media.
In fact, working with influencers on a marketing campaign can drive 16 times more engagement than paid or owned media.
Businesses of all sizes will be using social media influencers to help spark conversations around products, promotions and messaging. As the industry continues to evolve and grow, here are five influencer-marketing trends that are already changing the game:
Targeted measurement Instagram recently announced new analytic insights to provide marketers with a more realistic sense of how campaigns are performing. As networks continue to update and open their APIs to better assist in metric gathering, we're seeing continued improvements in how brands can analyze campaign results. Marketers are now sifting through big data to tie back results to very specific KPIs, outlining a level of detail that was previously unheard of. Campaigns are now directly connected to actionable outcomes and weighed with the same scrutiny of any business unit line item. More granular measurement will help influencers, brands and agencies alike to design smarter, more effective campaigns.
Influencers as content creators on brand-owned hubs Brands are increasingly using influencers as a virtual content creation staff, with the aim of turning brand-owned sites into content hubs with dynamic and compelling stories, images and video. In addition, social media amplification from influencers is driving traffic to brand-owned sites instead of influencer-owned blog posts. Instead of directing readers to these blogs, brands are reinventing themselves as the resource for subject matter expertise and relevant influencer content.
A seat for content and influencer marketing agencies at the brand table With more brands outsourcing influencer recruitment, campaign creation and project management content marketing agencies are becoming strategic partners who are integral to the inter-agency discussion. You'll find PR, advertising, digital and influencer/content marketing collaborating together with brand teams to develop integrated marketing programs that deliver maximum results for each discipline. An advertising idea may spark a concept for an influencer or, a brand retail activation may spur thoughts on the latest PR campaign. In addition, influencer marketing has predominately been folded into the PR budget; but as influencer platforms evolve, advertising budgets may start to fund the programs. Brands will benefit from working outside of silos.
Fewer blog-only programs Because blogs have become just another platform rather than a primary audience destination, we are seeing continued increase of programs executed on Twitter, Instagram, Pinterest, Periscope, Snapchat, YouTube and other networks. This is especially pertinent to the younger demographics that aren't reading long-form blog content and are more likely to digest content on social media channels. Naturally, agencies skilled in developing cross-channel campaigns are integral to brands creating their ideal social marketing mix.
Platform agnosticism, especially when it comes to video No single network, web service or technology has a monopoly on attention. The landscape continues to be ever-changing. Brands are recognizing that it's far more important to focus on the quality of content rather than the channel of distribution. At the end of the day, a view is a view … whether it's via a web page, YouTube, Facebook or Snapchat.
There are plenty of changes in consumer behavior and technology on the horizon, but high-quality influencers will remain the strongest bet for starting conversations and building relationships. Influencers build real relationships with their audience, based on the authentic stories they share and their expertise on different topics. These relationships are the foundation for successful influencer campaigns and high ROI for our clients.
When trusted influencers and great brands come together to create engaging content, it's a powerful combination. Viral posts can generate hundreds of thousands of views for brands and earn incredible engagement from consumers. The trick? Matching the right influencer to the right brand. How do you do that? Well, that's a topic for another day.
Danielle Wiley, CEO, Sway Group and Allison Talamantez, Chief Revenue Officer, Sway Group. They can be reached at [email protected] and [email protected]
Influencer Marketing Do's and Don'ts
5 Ways Influencer Marketing Transforms Retail Sales
This article was originally published in June 2016 and updated regularly.