In a First, McDonald's Ties Sales to its App
When McDonald's launched its first app last summer, called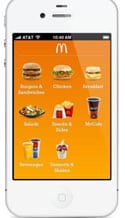 McDonald's Mobile, the strategy was to encourage downloads with rewards, like a free sandwich to the first 8 million users who downloaded the app. Users find menu items, store locators, a loyalty program, as well as coupons and discounts to encourage them to go into a restaurant.
What McDonalds found was that for the first time it could tie its digital strategy to an increase in restaurant sales; A stunning milestone that all marketers can only hope to achieve. McDonald's CEO Steve Esterbrook shared the details with investors.
"We begin 2016 in a much better place than we were 12 months ago," he said.
Optimizing Mobile Apps for Lead Gen
How to Get App Users to Turn on Location Services: 3 Tips