Don't Pass Pinterest By: Why B2B Marketers Need to Think Visual in Social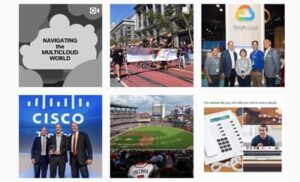 LinkedIn may be the social channel many B2B marketers feel most comfortable with, but don't discount the visual impact platforms like Pinterest and Instagram can have with business customers.
Microsoft, Cisco, Intel, GE and other leading B2B marketers have created highly visual social presences for tech products that on the surface might not seem all that pretty.
You might already have the content in hand to populate these channels: For example, Infographics and other eye catching pieces can be repurposed on Pinterest to drive traffic.
"Create a group or collaborative board and invite your audience as well as employees to add their own pins to it," writes Shalaka Nalawade on MartechSeries.com. "Not only does this allow you to form connections, it also helps promote your brand as the owner of the board."
Other social media channels can be used to drive traffic to pins. Email can also be a great tool to improve Pinterest traffic: Nalawade suggests adding a "Top Pin" or "Pin of the Month" link to enewsletters to generate awareness.
---
You May Also Enjoy:
---
B2B marketers should be investing time and budget in making marketing materials more visual across the board to engage customers and prospects in general. Video case studies promoted via social channels can add a bit of humor and a human element to B2B brand stories that can seem otherwise dry.
Cisco is a great example of a brand that uses video to bring its brand stories alive. A recent video showcased Cisco's solution to help revolutionize operations at the Port of Shanghai, telling a visually engaging story about a product—software—that might otherwise seem dry.
Tim Washer, who has produced content for Cisco, IBM and Accenture, told Chief Marketer that brands need to leverage storytelling in video to create a visual narrative.
"You need to create something more emotionally engaging, rather than just talking about the product," he says. "At Cisco, I never liked to mention the customer name. I'd rather talk about the customer and what they did—it creates a better story."