Cleveland Browns Win and Bud Light Unlocks Fridges
It was a win for the Cleveland Browns over the New York Jets last night, ending a 635-day drought for the team and its fans.It was also a win for Bud Light, ending a drought of what was arguably one of the longest teaser campaign in recent history.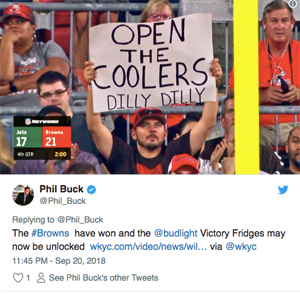 Since the start of the 2018 NFL season, Bud Light has promised Browns fans that with a win, free beer would flow across the city. Fans could see that that promise might be true as the brand had placed fridges all across the city, each stocked with 200 cans of ice cold Bud Light.
A series of teasers began to roll on social like this Aug. 14 tweet from the Browns: You've stood by us through it all. We love you for it, and so does @budlight. These special fridges will unlock celebratory beers when we get our first regular season "W".#VictoryFridge
---
Other articles you might enjoy:
---
That one tweet quickly got 7,900 likes and more than 3,200 people talking about it. Bud Light had fans engaged.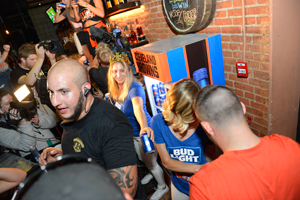 At the end of the game, when the Browns overtook the Jets 21-17, the Browns tweeted, "OPEN THOSE FRIDGES @BUDLIGHT." It did using smart-technology fridges programmed to unlock at the very moment the team secured its first win of the season.
The Cleveland Police jumped in too tweeting: We WON!! …. Wait …. Oh God The free beer thing. Ok Cleveland. Stay calm. GO BROWNS! @Browns @Budlight #CLE
"The Browns have shown a lot of heart over the first two games of the season so it was only a matter of time until they would pull off an epic comeback win like this," Andy Goeler, Bud Light vice president of marketing said.