Carnival Cruise Line Chooses Sweepstakes as a Powerful Tool
Sweepstakes are powerful tools and integral components of many brands' marketing planning and strategies. They are versatile, working hard as loyalty builders and brand activators, and can generate buckets of leads and engagements. Just as importantly, sweeps are easy to understand, have fixed costs and can achieve numerous goals. There are several types of sweepstakes and games. The trick is to make sure you match the correct type with your specific effort.
Take Carnival Cruise Line, for example. It just launched a sweepstakes in partnership with the New Orleans Saints to raise awareness and funds for a cause close to the heart of Super Bowl champ Drew Brees. If the Saints throw 300 yards in a game, the prize is a free cruise.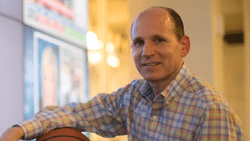 The partnership plays on Carnival's 5-year relationship with the Saints and its long-time presence in New Orleans. The line has been operating there for nearly 25 years and is the city's number one cruise operator with two year-round ships carrying more than 400,000 passengers annually from the Erato Street Cruise Terminal.
Scott Becher, Carnival's vice president of partnership and loyalty, shares the play by play behind the "Winning is a Brees!" sweeps.
CHIEF MARKETER: What is the goal of the sweepstakes?
SCOTT BECHER: Our overall goal is to use our relationship as the Official Cruise Line of the New Orleans Saints to celebrate the passion Saints have for their favorite team. The Saints passed for 300 or more yards in a regular season game 10 times last year, so we know we'll be making many fans very happy.
CM: Why the Brees Dream Foundation?
SB: Another goal is for Carnival to give back to those in need. Saints quarterback Drew Brees does a phenomenal job of that with his Brees Dream Foundation, which is dedicated to improving the quality of life for cancer patients and provide, care education and opportunities for children and families in need. So we've made a donation to Drew's foundation, and as the team quarterback he also fits nicely into our consumer promotion. Drew is a New Orleans icon and we're proud to be working with him and the Saints.
CM: How are you marketing the sweepstakes to consumers?
SB: We are employing a variety of methods to get the word out to consumers—an extensive presence via the New Orleans Saints website, social media, in-stadium promotion during each regular season home game, plus Carnival social media, public relations and promotion via Carnival's web site.
CM: Of all the marketing tactics available, why was a sweepstakes?
SB: The great thing about a sweepstakes is that anyone can win, regardless of their level of Saints fanaticism. Given that Drew Brees is one of the most noteworthy passers in NFL history, we thought awarding a free cruise whenever the Saints passed for 300 yards was a fun and creative way to attract consumers and ultimately support the Brees Dream Foundation.
CM: What is your history with the Saints?
SB: Carnival Cruise Line has been the Official Cruise Line of the New Orleans Saints since 2013 and over the years we've hosted a number of fun events to highlight this partnership, including hosting the team's Read & Rise literacy event for local kids aboard one of our ships.
Related articles:
A Primer in Sweepstakes Marketing