Brand Consistency Helps Vistaprint Connect With Prospects
A consistent brand presence across channels—and within the company itself—helps Vistaprint market to both B2B and B2C audiences.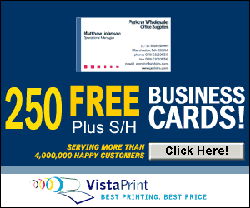 Vistaprint produces a variety of custom printed items, including postcards, t-shirts, invitations, stamps, labels and magnets. The company, founded in 1994 and publicly traded since 2005, is an online pure-play in the truest sense—orders can only be placed online, and cannot be called or mailed in.
Many customers first come to the company via a "free" business card offer, paying only for shipping. These free cards—with "Vistaprint.com" printed on the back—then become viral marketing tools for the company, says Justin Sharaf, manager of external marketing at Vistaprint, who spoke at the recent NEMOA conference in Boston.
Marketing efforts in the company are coordinated across departments, says Sharaf. "We must have collaboration with other teams like analytics and IT—I can put a great offer on TV but if the website can't support it, what's the point?"
The brand works to stay consistent across all marketing channels, from display advertising to direct mail to digital, with coordinated acquisition and retention efforts as well. The same colors and fonts appear, no matter what the media.
Performance goals are set for each media channel at the start of the year, with offers targeted for the various audience segments, says Sharaf. For example, moms don't want car magnets, they want invitations and announcements.
Inserts are a good marketing vehicle for Vistaprint because of the flexibility to target different B2B (and B2C) audience segments. Credit card files and parenting magazines work well, as do much more untargeted insert opportunities, like newspaper FSIs.
Every piece that goes out the door has a dedicated URL and coupon code. Likewise, different creative formats are used in different media, for different targets.
After choosing a media channel, the heavy lifting begins, says Sharaf. Inserts are often booked three to four months in advance, and then those plan must be communicated throughout the organization.
"We can't be selling 200 cards for $1.99 if another part of the company is offering 200 cards for $14.99," he explains, "For years, we offered 500 premium business cards for $10; we recently changed to 250 cards, and made the transition in all channels at the same time, so there was no confusion."
A varied media plan also helps boost brand presence, and response.
"Don't limit yourself to just one media vehicle, don't just test magazines or inserts," he says. "The more times you can get your consistent message across, the better."
And don't just try a program once and give up, he adds. "If you try a program once and it doesn't work, that doesn't mean that media won't ever work. Vary the offer or insert size—and then if it doesn't work the second or third time, then think about giving up."
Price point and time of year can be key areas to test, he says. "Small businesses might have extra budget left over at the end of the year for supplies. Or, they might wait until after January 1 for possible tax benefits."
Fatigue can dampen response as well, says Sharaf. Follow your response rate over several months—if it isn't where you want it to be, take a month off and then try a new offer or pricepoint.