Gyro, Stein IAS Nab Top Agency Honors at B2 Awards
Gyro and Stein IAS were named the top B2B agencies of the year last night at the BMA's B2 Awards Gala at the Hilton Chicago.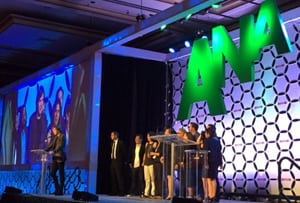 Gyro took the honors for large agency $25 million and over, while Stein IAS was recognized in the small under $25 category.
The best in show award went to TBWA\Chiat\Day and their client Accenture. Accenture was also named corporate marketer of the year ($1 billion+) category; DCP Midstream took the honor in the under $1 billion category.
Kelly Caffrey, director, RIA Channel Acquisition Marketing, TD Ameritrade Institutional was named marketer of the year. At the BMA's Masters of B2B Marketing conference today, Caffrey shared details of her company's Human Finance Project initiative, which humanized the work of financial advisors through storytelling.
More than 260 companies entered the B2 Awards this year, a new record. Click here for the complete list of B2 winners.
MKTG Inc., Momentum Worldwide and Atomic 212 are among the finalists for best B2B campaign in this year's PRO Awards, which will be presented at Chief Marketer's PROMONext event in New York on June 14. Join us for a day of fun and great educational sessions featuring Jack Daniels, Velcro, MasterCard and more.
Related Article:
Live from BMA: Alfresco's 5 Steps for Better Account Based Marketing