AR Still Challenging for Marketers: Survey
Augmented reality has plenty of uses for marketers to promote everything from amazing travel destinations to the amount of tooth-brushing time necessary to keep your teeth clean.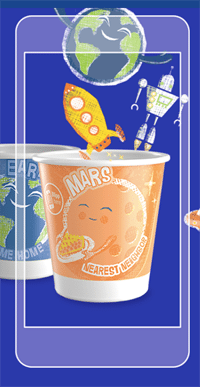 Dixie brand just introduced a line of cup designs that incorporate augmented reality brushing games. Kids can fight off mouth-invading monsters or explore outer space to show how to keep their teeth clean and healthy.
Ally Bank debuted an augmented reality game for mobile apps during February's Super Bowl and scored a marketing touchdown. The money booth-style AR game called Ally Big Save only worked during commercial breaks and encouraged users to save their money instead of spending it on the products being advertised. The results were striking. The app was downloaded more than 65,000 times, with over 600,000 game plays during the Super Bowl.
---
More on AR:
---
Even with all the experimenting and success around AR, a new survey from eMarketer found that there are obstacles to further investment in the technology.
EMarketer said that a January 2018 survey of 26 US senior marketing executives, currently using first- and/or third-party AR solutions, conducted by Boston Consulting Group (BCG), found marketers face a number of challenges while working with AR. One-third of respondents reported that AR is "too new and experimental," while others said that it was difficult to reach audiences at scale and that they don't have the proper tools to measure ROI. These challenges keep funding marketing for AR on a tight shoestring.
BCG predicts that the number of AR users in the U.S. will reach 51.2 million this year, up 36.0% over 2017.
Even with all the challenges, 21% of digital worldwide marketers plan to use AR this year, up from 13% last year, according to YouAppi.