American Express' Secret Garden at Coachella
American Express added a fresh take to its fourth year at Coachella last month, staging a signature, exclusive destination for customers among other experiences both on- and-off the festival grounds.
Our sister pub, Event Marketer, offers an in-depth look at the activations, but here are a few of the highlights: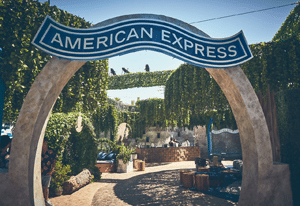 On site: The Festival Lounge, a secret garden exclusive to cardmembers, offered a cooling respite from the blazing desert sun. While there, visitors could take advantage of the official Coachella festival app to peruse and purchase Coachella merchandise using an augmented reality commerce experience.
Off-site: After relaunching its Platinum Card last year, American Express tapped its Platinum Collective stable of influencers to help create offsite experiences for cardholders at The Platinum House at the nearby Parker Palm Springs Hotel. The VIP experience offered energy readings and Reiki healing along with other activities like a pop-up from SoulCycle, temporary tattoos or make a donation to Young Audiences. In a play to recruit new members, cardmembers could invite three friends to the house.
Cold Brew
Another brand, Peet's Coffee got into the spirit of Coachella, which was held earlier this month, with several brand activations to promote its chilled Cold Brew. The craft coffee company featured the beverage at a unique branded bus within the Coachella campground and at an interactive "Ice Sauna" photo booth at the DayClub Palm Springs for attendees seeking an escape from the heat.
Designer Yurts
Marriott's W Hotels was also onsite creating a one-of-a-kind experience for its loyalty members. Marriott Rewards and SPG members could bid their points for the chance to stay in one of three designer yurts on the music festival's VIP Safari campgrounds, each one modeled to look like W Hotels from around the world. The W Village experience was set among lush palm trees and surrounded by spectacular mountain views in Indio, CA. To keep the party going, each yurt was stocked with snacks and beverages, a personal concierge and shuttles to and from the concert venue.
Related articles:
W Hotels Creates One-of-a-Kind Experience at Coachella