W Hotels Creates One-of-a-Kind Experience at Coachella
Marriott's W Hotels is creating a one-of-a-kind experience for its loyalty members this month during the Coachella Valley Music & Arts Festival.
Marriott Rewards and SPG members can bid their points for the chance to stay in one of three designer yurts on the music festival's VIP Safari campgrounds, each one modeled to look like W Hotels from around the world. The W Village experience will be set among lush palm trees and surrounded by spectacular mountain views in Indio, CA, April 13-22. Each yurt will be stocked with snacks and beverages, a personal concierge and shuttles to and from the concert venue.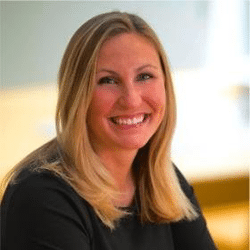 Jennifer Utz Ilecki
Jennifer Utz Ilecki, vice president of buzz marketing and partnerships, Marriott International, shares how it's all going to shake out.
CHIEF MARKETER: With all of the different partnerships available, why music?
UTZ ILECKI: Our partnership strategy revolves around next generation travelers' passion points, one of which is music. By tapping into the universal language of music, we are able to provide unique experiences for members of our loyalty programs from hosting on-property concerts at select properties around the globe to offering VIP access to music festivals and concert tours. Our music partnerships help to create strong emotional connections with our members and guests, ultimately inspiring them to want to continue to stay with us.
CM: How long has W Hotels been using music as a marketing strategy?
JUI: Music is a key touchpoint of all W Hotels' public spaces and has been a defining characteristic of the brand since its inception. The W was the first hotel brand to appoint a global music director in 2009, which has since evolved into a global music collective, comprised of one music director from each of our regional teams around the world.
CM: Who is the target audience for W Hotels?
JUI: The W guest is looking for insider access to what's new and next, from music to fashion to design to "FUEL," the brand's unique take on fitness and wellness. They are millennial-minded global jetsetters that seek memorable experiences and as many choices as possible.
CM: Other than music, is there another lifestyle that you focus on in marketing to reach your target? For example, sports?
JUI: There are many facets to Marriott International's global partnerships strategy, each revolving around the next generation traveler's passion points, which include entertainment, sports and culinary, to name a few. Our partnerships with the NFL, MLB, and Mercedes-AMG Petronas Formula One Team give loyalty members access to highly-coveted sporting events like the Super Bowl, World Series and Formula One races via the Marriott Rewards and SPG Moments platforms. In addition, we provide access to hands-on master classes and meet and greets with some of the world's top chefs, including Daniel Boulud, Stephanie Izard and Eric Ripert.
CM: Have you partnered with Coachella before?
JUI: Marriott International brought an 'industry first' to loyalty members through an immersive experience at Coachella in 2017, transforming eight Safari tents on festival campgrounds into hotel rooms for influencers and loyalty members to stay in. Each tent was designed to embody each of Marriott's lifestyle brands—AC Hotels by Marriott, Aloft Hotels, Westin, Le Méridien, Renaissance Hotels, Moxy Hotels, Autograph Collection and Tribute Portfolio. The campground included an on-site concierge and a relaxing outdoor area.
CM: How is this year's activation different?
JUI: This year, we've decided to focus on the W Hotels brand, and given the brand's luxury status, we've evolved our strategy to be more exclusive. We've upgraded our glamping experience, moving from custom Safari tents to luxury Yurts. We've built and outfitted four yurts in the Safari Campground area to embody four W locations around the world—Bali, Barcelona, Dubai and Hollywood. With the exception of Dubai which will open in August 2018, all of these locations have Sound Suites, private music studios and writer's rooms, which really reinforce the tie back to music.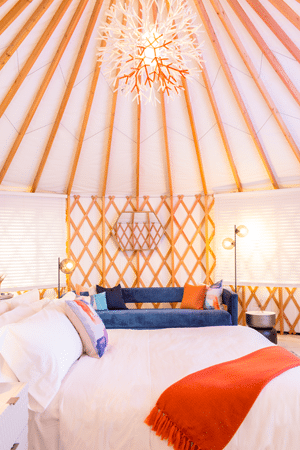 The VIP yurt.
CM: Are you using any special marketing technologies to engage with attendees?
JUI: We are working with our social media command center team M Live to geofence one of the local hotel properties near the festival to surprise and delight hotel guests with premium tickets. Additionally, knowing that connectivity is such a difficulty for festival goers while on the grounds, Marriott's loyalty lounge is offering free WIFI to all members who visit the lounge, bringing member benefits directly to where our members need them most.
CM: How will you measure the ROI of the Coachella partnership?
JUI: We'll look at quite a few factors before, during and after the festival when determining ROI. Leading up to the event, we'll look at the activity and interest level generated on the Moments platform (such as how quickly the packages sell out). During the festival, we'll focus on guest satisfaction metrics—both at the Yurts and in the Loyalty tent—as well as earned media buzz. Post-festival, we'll do some analysis to determine what worked and how we can improve for future activations.
CM: How does the bidding of points for the yurts work? Is it a contest? How do you determine who wins?
JUI: The Marriott Rewards and SPG Moments platforms give members VIP access to concerts, culinary experiences, premier sporting events and more, by allowing them to bid their points. For Coachella, we've opened up several yurts packages and VIP ticket packages on the platforms, allowing members to bid for each yurt and other VIP experiences. The bidding is typically open for a defined period of time (in this case, until April 6), and the win goes to the highest bidders!
CM: What is the goal of the Loyalty tent in the general admissions area?
JUI: We love giving access to super VIP experiences for our members to bid on, like the yurts, but only a few members will get to experience that. It was important for us to also provide a benefit to our members who are attending the festival on their own. We're meeting more of our members where they are (on the festival grounds), providing festival necessities such as phone chargers, WIFI, and water in an air-conditioned, beautifully decorated tent, while also providing additional festival-themed perks to our Elite members.
CM: You're marketing in a very competitive environment. What keeps you up at night?
JUI: Given that we are the buzz marketing and partnerships team at Marriott, our job is to consistently develop marketing campaigns that break through the clutter and attract attention. We're constantly keeping our finger on the pulse of what's trending so we can develop concepts that are timely, relevant and interesting for next generation travelers. To date, we've been pretty successful, but what keeps me up at night is how we're going to continue to raise the bar. Luckily, we have an incredible team and there is no shortage of creative ideas!
Related articles:
Game On! Marriott Updates its NFL Partnership with Virtual Reality Dome
Behind the Scenes of Marriott's Snapisodes with Amanda Moore