American Express on How and Why AR Works for the Brand
Augmented reality, which overlays digital information on the user's real-world environment, is going mainstream as part of an increasingly digital marketing tool kit. American Express just wrapped its fourth year entertaining fans with AR at the U.S. Open. Each year, its explores new custom experiences to engage fans and card members.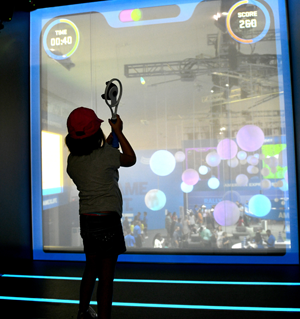 At this summer's event, an interactive gaming experience called "Super Rally" allowed players to simultaneously play tennis in both the digital and physical worlds. After stepping into one of eight booths, a life-size image of Venus Williams gave a video tutorial on how to play the game. Players then used a custom-designed 3D printed racket to return as many virtual tennis balls against physical targets as they could in 90 seconds. If they hit four of the targets in a row, "Super Rally" was unlocked, which amped up play.
"Normally when you're talking about AR you're looking at something through a cell phone or app. This completely removed the need for a second screen and engrained AR in transparent monitors giving the perception that these digital tennis balls are rallying and ricocheting off the targets that are all powered by AR, essentially making what is a flat transparent monitor appear to be a three-dimensional gaming experience," says Lindsay Ulrey, director global experiential marketing and partnerships, American Express.
---
Other articles you might enjoy:
---
Ulrey knows fans spend an average of six-to-seven hours at the event and seek out other entertainment while there.
"We don't have the space to have eight people play actually tennis, so we created a game within the limited space that makes people feel like they're playing a really authentic tennis experience," she says.
"Super Rally" follows last year's "Air Tennis" custom AR experience at the Open. In front of a digital screen, players used their bodies and hands as rackets to return tennis balls to an AI opponent. They knew when it was time to take a swing when hit with bursts of air.
When American Express entered the space about four years ago, it began with"Blank Space Experience," a Taylor Swift music video experience within the American Express Music App.
"That was a way to interact directly with Taylor's music video through a treasure hunt and be inside the music video," Ulrey says.
In advancing its uses of AR, American Express has been testing commerce opportunities using AR app experiences and partnerships with Justin Timberlake and Coachella.
In April, through the partnership with Timberlake, an AR mixed reality experience called "Outside In" was developed and housed in the American Express Music App. In it, the superstar acts as a personal guide as he discusses his LP Man of the Woods. At the time, Billboard.com covered the experience, writing: "Once fans have heard everything from Justin 'Outside In' then turns the singer's MOTW track "Breeze Off the Pond" into a totally immersive experience, sending fans to a real Montana setting where they can explore as the song plays and Timberlake shares details of how it came together—all while they actually see breeze off the pond before their eyes. Various icons around the mountainous scene provide different experiences for the user, such as shopping an exclusive Man Of The Woods merchandise collection including long sleeve tees, sweatshirts and, of course, flannel."
"For us, it's all about starting with the fan and what they're interested in and what we can deliver on that," Ulrey says. "AR has been a really interesting place for us to lean into for the Justin Timberlake experience, for example. We know they have a hunger for merchandise he puts out and AR is the most interesting and cutting edge way to connect our fans with Justin—especially Millennials looking for new experiences that allow them to transport themselves to a different world and AR is the vehicle that allows us to do that."
Just prior to the U.S. Open, which ran Aug. 27 to Sept. 9, Coachella and American Express teamed up to develop an AR section within the Coachella app for users to view special filters. Cardmembers could find exclusive merchandise within the filter, purchase the items and have them shipped home.
After four years of staging custom AR experiences, Ulrey says, a lot of new tech, like AR, is test and learn if its something its fans are reacting to.
"We have specific goals and KPIs for all of our activations," she says. "For things like this that are super innovative and cutting edge and forward thinking, it's not always about the biggest results, its 'is this something we should continue to invest in because we're seeing upward trends in fan interest and engagement'."
To develop the AR experiences, American Express collaborates with both internal product and tech teams, as well as external partners.
"We've been very happy with the number amount of transactions considering that commerce in an AR environment is a very new concept," she says. "We're in very relevant places and offering relevant products. So we've had successful results in terms of sales and transactions."