3 Ways to Ignite Brand Affinity to Build Loyalty
When it comes to bolstering consumer relationships, loyalty is often the first phrase that comes to mind. The ultimate building block, however, lies in brand affinity, or the emotional connection consumers have towards their favorite brands. When properly leveraged, affinity can help deepen consumer engagement and inspire long-lasting loyalty.
Increasingly, the brands that best resonate with consumers are those that create exemplary experiences—prioritizing personalization, meaningful rewards and seamless interactions. In a crowded marketing landscape, these trends are essential in setting brands apart and igniting brand affinity. A recent survey of consumers around the brands they purchase from most frequently, honed in on what brand affinity looks like, the factors that strengthen consumer ties, and how others can create experiences that move the needle.
Here are three ways to build brand affinity: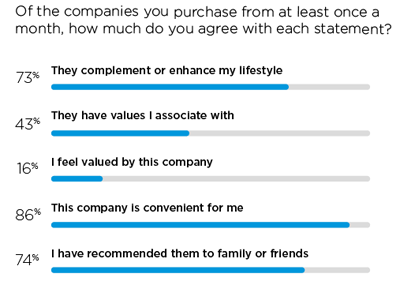 1. Seamless Experiences Lead to Loyalty
When it comes to building affinity, convenience is king. Bombarded by a surplus of apps, brands and life obligations, today's consumers are prioritizing interactions that streamline everyday activities and free up their time. Omnichannel experiences, in particular, can go a long way when fostering affinity, offering seamless experiences that continue the shopper journey without interruption.
Amazon is especially adept at adapting the user experience across channels with touchpoints that span mobile apps, web, email CRM and in-store locations. This fluency is heightened all the more with the launch of Amazon Lockers, which allow shoppers to send their packages to secure, self-service kiosks. In the age of online delivery, Amazon Lockers alleviates concerns around stolen packages, granting consumers peace of mind and empowering them to make purchases with confidence. Once considered a brand differentiator, such experiences are becoming a customer expectation. In a 2018 study, 73 percent of consumers stated the brands they frequent most complement or enhance their lifestyle.
Mobile payments and curbside pickup have also added a layer of convenience to brand interactions. Target, for example, recently introduced Wallet in its app, allowing shoppers to pay using their Target REDcard and save with Cartwheel offers and weekly ad coupons—all with the scan of their phones. Other brands like Dunkin Donuts have enabled curbside pickup, allowing shoppers to have orders brought out to their cars. With 86 percent of consumers surveyed stating that their favorite brands offer somewhat or complete convenience, these functionalities can play a vital role in deepening consumer affinity and encouraging repeat engagement.
---
Other articles you might enjoy:
---
2. Encourage Engagement With Rewards
Affinity is a two-way street. Even if a consumer is passionate about a favorite brand, their enthusiasm often feels unappreciated. Some 74 percent of the consumers surveyed have referred family or friends to their favorite brands, yet only 14 percent feel strongly that the brand values them. Rewards-based loyalty programs can help bridge this gap, demonstrating appreciation for repeat patronage and engagement. Whether offering recurring discounts, robust prize catalogues, or exclusive promotions, rewarding consumers makes them feel appreciated by their favorite brands and, in turn, fosters repeat interactions.
Starbucks' Rewards, for example, gives members access to exclusive events and perks like unlimited refills and free birthday treats. Members also earn points for every dollar they spend, which can be redeemed for eligible food and drinks. For the last three years, the Starbucks experience has been further heightened with the popular "Starbucks for Life" promotion, granting Rewards members a chance to win free food and beverages for 30 years, along with a bevy of other prizes. To convert casual shoppers into repeat visitors, brands should consider implementing similar rewards structures that allow consumers to feel the love with every interaction.
3. The Power of Personalization
Everyone wants to feel special and consumers are no exception. To attain affinity, brands must tailor communications and product recommendations to consumers' specific preferences, as well as their specific phase of the shopper journey.
The Hilton Honors program, for example, ensures that whether a guest is a weekly visitor or checks in only once a year they receive a highly customized experience. From the ability to hand-select a room and pre-order favorite items to Uber integrations and a built-in "Fun Finder," Hilton's app experience is bursting with features that enhance each traveler's experience the way an in-house concierge would.
Kroger's app takes a similar approach. Hyper personalized, the experience enables consumers to build shopping lists in-app and find items by aisle. Users can also load digital coupons directly to their Shopper's Card, receive personalized offers, opt-in to push notifications about order updates and promotions, and most recently create a "Weekly Items" collection for ease of repeat purchases. These actions are a true investment in the consumer, and can help transform their experience, demonstrating the value of the personal touch.
To create memorable interactions and encourage repeat engagement, brands must consider functionalities that will add deeper value to the consumer experience. Ultimately, the strategies that promote personalization, strategic rewards, and stronger cohesion will build the foundation for meaningful brands relationships and ensure consumers are on the road to affinity.
Kaitlyn Mitchell is director, strategy and insights at HelloWorld.