Articles by Kaitlyn Mitchell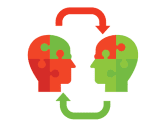 When it comes to bolstering consumer relationships the ultimate building block lies in brand affinity.

Chief Marketer Videos
For our first Brands on Fire LinkedIn Live, we spoke with SheaMoisture CMO Taydra Mitchell Jackson about the inspiration for the brand's "Black Men Love" digital campaign, the success of its men's product business and engagement through consumer experiences.
Call for entries now open
SIGN UP FOR UPDATES!
Fill out the fields below to receive the latest news and special announcements from Chief Marketer.