2012 PRO Award Finalist: Team Detroit for Ford Motor Co.
Ford Motor Co. wanted to generate 100,000 test drives of its 2012 Ford Focus. To capitalize but also improve upon the success of its two-year-old promotion, "Drive One 4 UR School," which was being continued in 2012, Team Detroit conceived "Focus Bonus Drive," with a goal of producing 50,000 test drives in the 2012 Ford Focus.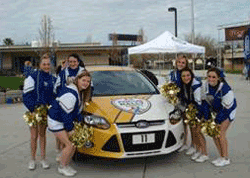 After "Drive One 4 UR School" participants took their first qualifying test drive in any Ford vehicle, the school would receive an additional $10 from Ford if that same participant took a second test-drive in the 2012 Focus. The "Focus Bonus Drive," coupled with the "Drive One 4 UR School" platform, gave schools the opportunity to raise up to $8,000 in one day—6,000 from the original "Drive One 4 UR School" program, and an additional $2,000 from the "Focus Bonus Drive."
In addition to the community benefits, the "Focus" promotion allowed tens of thousands of individuals to test drive a 2012 Ford Focus in a low pressure and comfortable environment at their local high school. Since the majority of participants were non-Ford owners, these behind-the-wheel experiences were key in increasing awareness of the 2012 Focus, as well as improving people's perceptions about the vehicle and the brand.
The agency tested "Focus Bonus Drive" with three pilot events in California. Each event was given four 2012 Ford Focus vehicles for test drive, a yellow "Focus Rally" vehicle to display on-site, and a Focus-branded event kit. Focus Product specialists attended each event, providing product demonstrations and vehicle walk-throughs. Dealership staff and school volunteers were briefed on the promotion, so they could explain the program and its functionality to participants.
The pilot's success resulted in the program being extended nationwide. Participating dealers received a Focus-branded event kit in addition to their "Drive One 4 UR School" kit including vehicle magnets, "why buy" a 2012 Ford Focus lists, hang tags for each 2012 Focus test-drive vehicle, vehicle-shaped counter cards with easels to place on registration tables, 36' x 24' posters, and take-away informational pieces. Online enrollment was offered for the first time to dealers scheduled to host a "Drive One 4 UR School" event.
A total of 552 Ford dealers nationwide participated in the program (half of all dealerships holding "Drive One 4 UR School" events) from March through November of 2011. "Focus Bonus Drive" generated more than 63,000 test drives, resulting in the donation of an additional $639,360 to high schools nationwide.
At the conclusion of the 120-day sales window for each "Drive One 4 UR School" event, 1,177 car sales were generated among "Focus Bonus Drive" participants, with the 2012 Focus accounting for 36% of sales.