2012 PRO Award Finalist: Marketing Drive, Carat for Philips
Philips Sonicare edged slightly past its competition (Oral B) in premium power toothbrushes as of August 2011, but the competition was fighting back and Sonicare could not sit on its laurels. Since the majority of consumers still use manual toothbrushes, this segment was identified as a growth opportunity.
Marketing Drive and Carat, took advantage of that selflessness in the promotion messaging, "Give the Gift of 'I Love it', Guaranteed." The agencies were charged with increasing market share by 5 points and increasing Facebook fans during the promotion period by 25%.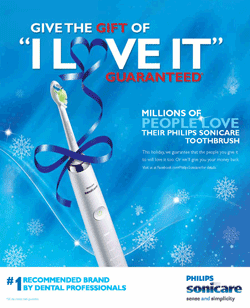 Sonicare guaranteed the people on their gift list would love a Sonicare power toothbrush or the company would give their money back. Once consumers visited the Facebook page they were greeted with the chance to play "Unwrap the Love" and, by clicking on the gift packages, unwrapped Sonicare products within colorful holiday gift boxes. If consumers unwrapped three of the same Sonicare product, they won it instantly as a prize. Consumers were encouraged to share the love by inviting friends to play too.
There was also an educational component. A description was provided for each product the consumer unwrapped, along with videos demonstrating product performance. These helped consumers determine the best Sonicare product for their gifting needs. Facebook visitors were also provided a coupon for $10 off to further incentivize purchase.
The incentive and messaging worked. During the 11-week promotion, Philips Sonicare power handles and brush head refills were the #1 brand every month per Nielsen NPD. Each month during Q4, Sonicare exceeded its goal of +5 share points vs. the same year-ago period.
Philips supported the program with a $10 million digital and print campaign, which drove traffic to the Facebook page. A national FSI featured a high-value coupon. There was also a Walmart-targeted PFP and direct mail effort. Program messaging focused on the Sonicare toothbrush as a gift anyone would love to receive, and promoted the special savings opportunity and chance to win a free product.
In addition to sales achievements, Facebook fans increased by 62%. The "Unwrap the Love" tab received 278,000 visits with 114,000 unique visitors (41%). Consumers engaged in 89,000 game plays, coupon downloads, product/video views, and show/find a store. Roughly 2,500 consumers shared a link to the game, and 1,100 posted the game to their wall.