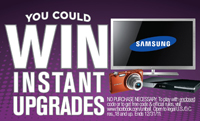 Uni-ball has typically been a broadcast kind of brand, running TV spots to show how its pens are better than its competitors—in both price and performance. But the brand has made a major change this year, migrating all of its spending on broadcast media to a social and digital program, supported by an overarching national retail promotion.
The change comes as uni-ball said it could no longer effectively reach its target audience—males 15 to 34—through broadcast, but rather through social and digital media. And what better way to do that than with a series of three videos that use slapstick, "Saturday Night Live"-style humor directed by actor Fred Savage of "The Wonder Years," who makes his commercial directing debut.
The videos appear on Facebook, the focal point of the campaign, which has more than doubled ithe brand's fan base to 23,000 fans within the first few days of the campaign. The program began running on June 23.
"It's always a gamble playing with humor, but we think we nailed it," Rusty Snow, vice president and general manager at uni-ball, said.
In the videos, three characters represent the heart of the message of the campaign, "Instant Upgrade," developed by Tris3ct, to convey that a uni-ball pen is an upgrade. The characters are: The Piddler (the pen whose ink winds up all over your hands and clothes), Mel Function (the pen that never writes properly) and The Spectacle (the pen with the fancy design that draws more attention to the pen than to its owner).
"A pen says something about you and people can make judgments," Snow said.
In stores, 2 million packages includes codes that drive consumers to the Facebook page where they enter the code for a chance to win lifestyle "upgrades" such as new electronics, apparel, gift cards and movie tickets. The packages are on shelf in retail stores across the country through the end of the year.
Just in time to catch back-to-school, back-to-college shoppers, Uni-ball partnered with online video advertising service Bright Roll to distribute pre-roll videos across the web from July 15 through the end of October.
"We feel we get a much more targeted and a better benefit for our spend that is spread out for a longer period of time in more specific places for people to see it," Snow said.
Back on Facebook, fans can participate in a number of related interactive features such as, "Upgrade Your View" by printing out cityscapes to decorate office cubicles or "Upgrade Your Job Title." All of these features can be shared with friends to spread word of the program virally.
"We're taking a subject that is fairly mundane and creating a little excitement around it," Snow said.