Articles by Kelli Haemmelmann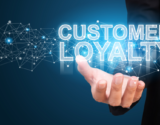 What Millennials want from brands is clear—they want loyalty programs that transcend the transaction, genuine experiences, customer engagement and convenience.



Chief Marketer Videos
This campaign, Netflix at AsiaPOP Comicon from Jack Morton Worldwide, landed a 2019 Gold PRO Award.
CHIEF MARKETER 200

Click here to sign up for more information on the 2022 CM200 call for entries and to view the CM 200 2021 List.
SIGN UP FOR UPDATES!
Fill out the fields below to receive the latest news and special announcements from Chief Marketer.