Virgin Atlantic Rallies Seattle With Free Flight Contest
When Virgin Atlantic looked to market its new direct flights from Seattle to London, it realized the two locales had something in common—rain, as in weather, and reign, as in royalty.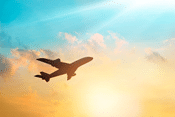 Seattle is well known for its rainy climate. It rains about three days a week, and as a matter of fact, there's a 70% chance of rain there right now, according to Weather.com. Across the pond, there is the reign of the Queen. When you combine the two, you get the "Reignmakers" contest, just one component in a two-day extravaganza that includes street teams, flight attendants, branded vehicles, swag, influencers, breakfast, gifts and free flights.
To enter the contest, players upload a Seattle-based photo to Twitter or Instagram, tag their favorite Seattle Reignmaker and @VirginAtlantic along with #SeattleReignmaker. Two winners will each receive a pair of tickets to London. The contest ends Feb. 28 and the winners will be chosen by March 3 via a reply to their social post. (Hope everyone is paying attention).
Social media plays an important role for Virgin Atlantic in bringing its brand philosophy to consumers. Last spring, Virgin and its agency Adam&Eve/DDB trolled social platforms to dig up old tweets that began with the words, "One day I will …" The tweets were reposted across social and digital, as well as outdoor locations in the U.K, where Virgin is based. People who spotted their "old" tweets were given a free flight to complete whatever they planned to do "one day." The "One Day" campaign supported the "Let it Fly" tagline.
Back in Seattle, as umbrellas pop open, consumers will keep an eye on their social feeds hoping for a tweet with a free flight to London. Read the article …
Related articles:
Go Fish: Contest Casts Goldfish Snacks as Video Stars
Quaker Contest Draws Hundreds of Thousands of Recipes