Quick-turn Content Labs on the Rise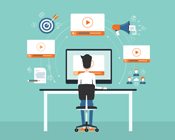 Agencies like Periscope and public relations firms like Spong have opened content marketing labs to keep up with the explosion and instant-pace of producing and distributing relevant content marketing.
These labs are an offshoot of social media "war rooms" that sprang up in droves as brands turned to social media to learn what customers were saying about their brands and to monitor and maintain two-way conversations with those consumers. Agencies have created space to produce video and photo shoots and other digital content. This article from The Chicago Tribune fills us in.
Google Exec on 4 Best Practices for Content Marketing
Building ROI with Original Video Content