National Championship Excitement is Electric for Ideal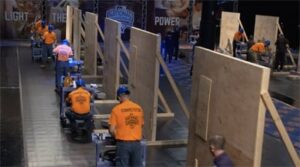 A competition to find the country's top electricians is helping Ideal Industries build brand and draw new professionals to the trade.
The second Ideal National Championships—where 168 electricians competed for $500,000 in cash and prizes—were held at Walt Disney World in Orlando in November, and will be televised via a syndicated special this month.
Ideal Industries is a 101 year old family owned business focused on the electrical trade, specializing in products such as hand tools, testing meters, lighting systems, duct monitoring and networking systems. Their primary customers are electricians.
"We need to support them— there's a shortage of [new] electricians coming into the trade. There was a real need to encourage people to come and get into the work," says Doug Sanford, group president, Ideal Industries. "We wanted to give back."
The biggest challenge in the first year was coordinating the effort, he says. Over 1,000 regional events were held in 63 territories. "We had to get the word out that this was something new and exciting," he says.
Over 23,000 electricians participated in the first year, and that swelled by 46% to over 30,000 in 2017, with over 1,200 regional competitions. One hundred and sixty-eight electricians competed in the nationals.
Ideal partnered with Intersport to create the nationwide competition, which features not only electrical professionals but students and apprentices as well. The ROI of the event is tough to guage, he says, because this is a long term play. "The main focus was to grow relationships with electricians and engage them. We want people to feel good. We want to connect to our customers and trade schools and get to know the industry better."
A dedicated website is used to promote the competition, as well as social media and print flyers in products and packaging. Facebook Live was used to bring the excitement to family and friends who wanted to share the experience but couldn't make it to the nationals.
In the first year of the competition, Ideal saw a lot of interesting stories from the competitors and realized these should be showcased and leveraged. This year, some of the top competitors were tracked on their journey to the finals, and these will be featured in the TV special as well as a digital content series.
"This has grown beyond our expectations," says Sanford. "The engagement continues to grow."
Beyond the competition, Ideal engages electricians in other ways, such as sponsoring a Tradesman Appreciation Day at Wrigley Field (which coincidentally uses Ideal's wireless lighting system).
Related Articles:
Improving Engagements at B2B Live Events
B2B Event Spending on the Rise