Mountain Dew Bets 40 Percent of Budget on Reaching Gamers
Mountain Dew plans to spend 40 percent of its marketing budget this year to reach gamers. That's a "slight increase" over last year, but still a big number, Digiday reported.
In 2018, the brand spent $119.5 million on paid media up from $89 million in 2017, according to Kantar media.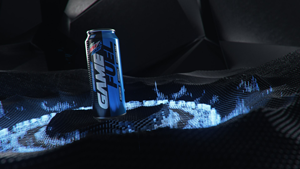 Plans call for ramping up sponsorships with esports leagues, including Team OpTic and Counter Logic Gaming, as well as teams like Immortals, Team Dignitas and SK Gaming. There will be co-branded partnerships with Twitch, Facebook ads targeting gamers and fans, and a possible deal with the sports TV channel Cheddar, which focuses on esports, Digiday reported.
Mountain Dew has long been in the extreme sports and gaming space, but with the new focus on esports it has not only ramped up spending, but also product innovation for the gaming ecosystem.
In January, Mountain Dew Amp Game Fuel hit store shelves across the country—a beverage it said was "the first drink made by gamers, for gamers" with gamer-friendly packaging like a tactile grip and resealable lip can. It arrived on shelves with an enticing promotion: Purchasers got access to "valuable assets" within the most highly anticipated games from video game publisher Ubisoft including Tom Clancy's The Division 2, which was not to be released until March 15.
Last week, Amp Game Fuel and game developer Blue Mammoth announced the online "Mtn Dew Amp Game Fuel Championship" that will take place May 18-19, when Brawlhalla video game players will battle it out for a $40,000 prize pool for 12 winners. Those who purchase Amp Game Fuel will receive points to unlock Brawlhalla currency boosters, and beginning May 10 for a limited time players will find in-game challenges and missions that unlock free content like avatars, color schemes and an all-new taunt. The beverage brand also announced that it is now the official global beverage partner of major global events within the esports company ESL's ecosystem.
---
---
Since the launch of Amp Game Fuel, the brand has reached 47 percent consumer awareness with repeat rates at about 40 percent and social sentiment being 96 percent positive, Nicole Portwood, vp of marketing, told Digiday.
"The key to all of this for us is to keep that focus on the end consumer," she said. "As long as we keep that first in our mind when it comes to consideration of partnerships, investment, innovation then we will be in good shape for the future."
When brands like Mountain Dew, Gillette, PUMA, Chipotle, Toyota, Mastercard and State Farm ink partnerships with esports, everybody wants to get in the game.
Nielsen reported last week that there has been a 13 percent growth in the share of non-gaming related brand sponsorship involvement year-over-year from categories like restaurants, automobiles, financial services insurance and others. Like Mountain Dew, brands are transitioning traditional budgets to esports as opportunities to reach young audiences in traditional channels shrink while digital entertainment choices are growing fast.
---
Other articles you might enjoy:
---