Mobile Budgets Up, Leadership Teams in Place: Adobe Mobile Maturity Survey
Real advancements are taking hold for mobile marketers, including centralized mobile leadership teams and tactics to measure the effectiveness of mobile. Projections for budget increases next year cover all areas of mobile marketing, including optimization, creation and measurement, according to the Adobe Mobile Maturity Survey.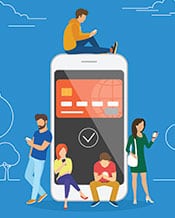 Acquisition is a major prize, with about 33% of mobile budgets going to delivering new customers.
The findings indicate that mobile plays a big role in both driving and contributing to marketing strategy and programs.
• Mobile contributes to cross-channel efforts (53%), data-driven efforts (49%) and customer experience (47%)
• Mobile drives strategy and programs for cross-channel efforts (28%), data-driven efforts (31%) and customer experience (39%)
In advancing mobile as a cross-channel tool, marketers said they are beginning to tie mobile websites to mobile apps to create a smooth cross-platform experience.
Do you have a mobile campaign you're proud of? Enter it in the 2017 PRO Awards.
The report suggests that your competition is no longer your typical competitive company or brand that you benchmark yourself against, but rather the companies delivering exceptional mobile experiences. Experiences that help consumers simplify their lives through intuitive, easy to use apps and optimized websites. Development investments for apps range from $4.2 million to $4.8 million and $4.9 million to $5.1 million for websites.
One brand that has worked hard to deliver an optimal mobile experience—and has been rewarded—is Marriott. Mobile devices now account for a striking 60% of its traffic and its Marriott Mobile App has improved the overall customer experience with personalization and upgraded functions. Some $1.7 billion in annual booking are attributed to Marriott's mobile strategy.
The Adobe survey also found that this year, marketers said that the importance of progressive mobile web experiences were "much more important" (44%), followed by design and layout (42%), streamlined checkout/pay for mobile (38%), and video content and user-generated content both at 34%.
The in-depth report also covers numerous other items, including the media used—and its effectiveness—to drive acquisition, tech used for mobile apps, types of metrics to determine engagement and other findings. Read the article …
Related articles:
2017: The Year We Get Mobile Advertising Right
3 Steps to Engage Mobile App Users
Facebook Reports Issues With Metrics on Mobile