With Millennials in Mind, Diet Coke Relaunches
If there's any question that Millennials are a critical market for Coca-Cola, the question has been answered with a refreshing and bold restaging of the iconic Diet Coke brand.
The #SoManyFlavors branding exploded with vibrant colors and graphics of sleek, modern cans of the four new flavors of Diet Coke, designed specifically with Millennials in mind. The zero-calorie flavors tell the tale of a rainbow of fizzy beverages attractive to that mega-generation: Zesty Blood Orange, Feisty Cherry, Ginger Lime, Twisted Mango. The 310 mL packaging itself calls out to a younger audience with sleek, clean, tall lines.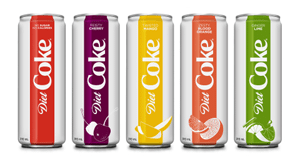 During the launch, Coke reassured its millions of namesake Diet Coke fans that the product they have known and loved since 1982 has not been reformulated, but that the brand was entering a new contemporary era with flavor extensions.
"First, don't worry," Coca-Cola said in a FAQ about the redesign. "The Diet Coke known and loved by millions since 1982 is not going anywhere. It's here to stay. In 2018, we're relaunching America's No.1-selling no-calorie beverage brand in North America with a full brand restage, including a sleek new look, modern design, new campaign and the debut of four bold, new flavors. We're maintaining the essence of Diet Coke while modernizing the brand to invite a new generation of drinkers to try it."
The new flavors were fueled by research—the company spoke to more than 10,000 people from across the country—that revealed younger Americans like big, bold and refreshing flavors in the foods and beverages and they like to try new things.
"Millennials are now thirstier than ever for adventures and new experiences, and we want to be right by their side," said Rafael Acevedo, Coca-Cola North America's group director for Diet Coke Acevedo. "We're contemporizing the Diet Coke brand and portfolio with sleek packaging and new flavors that are appealing to new audiences."
Related articles: