Mars Wrigley Marketing VP Talks Valentine's Day and Connecting With Consumers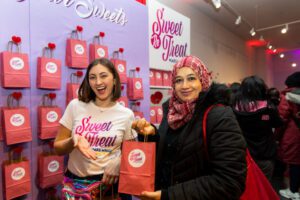 Valentine's Day is an important holiday for confectionery brands from both a sales and consumer engagement perspective. Take Mars Wrigley, which activated its "Sweet ReTREAT" pop-up this week in New York City for a third year. Thanks to a new partnership with Bumble, this year's strategy centered around creating connections in love, work and friendship. (For specifics on the activation's touchpoints, go here.)
We spoke with Mars Wrigley's Hank Izzo, vp of marketing, who's responsible for marketing the company's North American brands in the portfolio, from Starburst to Snickers to Dove Chocolate. Here he discusses the activation's strategic marketing goals, the importance of seasonal marketing and year-round social engagement.
Chief Marketer: What are the strategic marketing goals behind the activation in New York City for Valentine's Day? How has it evolved through the years?
Hank Izzo: Our brands play a big role in people's lives. We connect through our brands, through gifting, through sharing. There's a high expectation that our brands connect on a personal level with our consumers. So, a big part of the Sweet Retreat has been driving that connection with our consumers. Also, connection is no longer good enough. Running an ad is no longer good enough. People connecting with a brand in a broader way is no longer good enough. You need to create an enhanced experience—and the Sweet Retreat is just that.
When we first started, it was more about sharing treats with someone else, because our data shows that people like to treat themselves even more with a friend. Now, it's all about creating connections by offering opportunities for people to come and interact with the brands. We're also partnering with Bumble this year to create even more connections. It's not just a dating platform, it's also about connecting on the business front, it's about connecting with new friends, it's about getting mentored and mentee'd.
CM: How else is "making connections" present in other parts of your marketing strategy?
HI: We have a detailed social media program on all of our brands. Look at the M&M brand, for example. We are connecting with our consumers with campaigns, programs and new products. We have a brand new program out there called M&M Messages, which is based on social sharing and connecting. You can give someone a gift or a pick-me-up that has a message that comes right from the characters. We launched this at the Oscars. With Snickers, we just did the Super Bowl and are connecting with our new ad campaign. It's about integrating ourselves into the point of purchase with our customers using tools that they use as well. In a world that's becoming more connected all the time, we need to find ways to break through and partner in a seamless way, from the out-of-home connection to the point of purchase.
CM: How does experiential marketing factor into your overall marketing strategy?
HI: The Sweet Retreat is one of the bigger events that we do. Valentine's Day is big business—you're talking about 20 billion dollars in sales across multiple categories. Our confectionery brands play a major role in the season; over 94 percent of consumers want to receive some type of chocolate or candy during the season. So, creating these social, experiential opportunities, specifically around the seasons, is a huge deal for us. From a gifting standpoint, it's not only romantic gifting at the last minute. Fifty percent of Americans are giving gifts, and those gifts include candy. The majority of our focus of late has been on the seasons from a social activation standpoint, because seasons are another way for people to celebrate.
CM: What tactics are your brands using through social media throughout the year?
HI: The strategy is to reach as many consumers as we possibly can. Unlike TV, the social piece allows us to drive greater relevancy as we often create content with very short lead time. We have teams of people who are just watching and generating and creating conversation, pretty much nonstop, because the conversation about your brand and the conversation going on in the world never really stops. We have two-way conversations all the time with our consumers. We listen to them. We respond to them in real time. They have questions for us.
For example, of all our brands, the M&M guys have the wittiest banter back and forth, based on their caricatures. The conversation is a good source for inspiration for future social content or a new product innovation. Some of our product innovations started as conversations on social that we hand off to our developers and keep the conversation going.
Authenticity is really important for us to remain successful in the social space. This is where differences may arise between brands. We have to be true to the brand's tone of voice, which helps us dictate the type of content that we produce in any given conversation. If you can easily swap one brand into another brand's creative, the creative is probably not strong enough. We always ask ourselves, is this something that M&Ms would do or say? Is something that Skittles would do or say? Is this something that Snickers would do or say? When you hear the brands say something out of tone, our consumers can pick it up like that.
CM: How do you approach innovation in terms of new products?
HI: We've got great brands, and there are things that certain brands would do and certain things that the brands wouldn't do. Snickers is about satisfaction. M&Ms is about social sharing and fun. Dove is about indulgence. The first thing is reinforcing what the brands are about. The next thing is that everything starts with an insight. Everything starts with a trend. Everything starts with us interacting with our consumers, prototyping, sharing with them. Whether it's an idea in concept form or prototype form or an idea that we get fed through social media, we want to constantly check in with our consumers and make sure we are on the right track launching this thing, talking about it this way, with whatever flavor or format we're doing.
Then, even after we launch it, we're constantly following up through social and through data that we get from our consumers that call into our call center. I've gotten people contacting me directly in some cases. We're very interested to see how our innovation does so that if there's something we need to pivot on or something that we need to improve, we address that. Everything we do with our brands, whether it's social, whether it's innovation, is all about connections. And you've got to have the conversation with the consumer to make sure we got that insight right.